The silver price today (Monday, June 6) is continuing last week's big turnaround. As of 9:30 a.m., silver prices were up 0.5% to $16.44.
Today's gains are the result of Friday's huge curve ball that came in the form of a downbeat jobs report…
The U.S. Labor Department reported that nonfarm payrolls had risen by just 38,000 jobs in May – the smallest increase since September 2010. Jobs in the manufacturing and construction sectors fell by 10,000 and 15,000, respectively.
The news totally changed the mindset about the odds for a summer rate hike by the Fed. In fact, its timing just a week and a half before the June FOMC meeting seemed almost by design.
But the report smacked the U.S. Dollar Index (DXY), which plummeted from a high of 95.50 to 94.11 in under an hour on Friday.
Of course, the much lower odds of a rate hike now take the wind out of the dollar's sails. And a weaker dollar means it becomes less expensive for users of other currencies to buy an ounce of silver.
So you might have guessed what happened next: The price of silver rocketed higher.
Here's how silver trended last week leading up to its biggest one-day gain in six weeks…
Why the Silver Price Today Is Up
Silver prices started off the last trading week with a loss. On Monday, May 30 (Memorial Day), the metal fell 1.9% to close the day at $15.96.
There was some strength in overnight trading, but the momentum faded as the silver price opened at $15.99 on Tuesday. By the end of the session, it settled at $15.95 for a slight loss of 0.1%.
On Wednesday, June 1, a rare event happened – both the price of silver and the dollar declined. While the DXY fell 0.4% to 95.42, silver prices lost 0.2% to settle at $15.92.
This chart shows how the dollar trended throughout the week…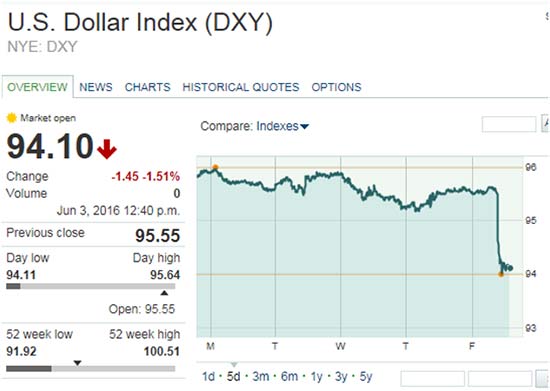 The silver price and dollar were both pretty quiet on Thursday, June 2. Silver essentially moved sideways to close at $15.96 for a slight gain of 0.3%. Meanwhile, the DXY was also flat and moved only 0.1% higher to 95.55.
But silver prices shocked and awed on Friday, June 3…
Thanks to the extremely weak jobs figures, silver prices posted their biggest daily gain since mid-April. Prices surged 2.1% to $16.37 on the day. That was a natural reaction to the DXY, which tumbled 1.6% to 93.87.
Now, the silver price today is up again as the repercussions of the jobs report continue to play out in the market.
But the rally in recent sessions begs the question of whether or not the price of silver's recent correction is over. After all, the metal is down 7.7% from its peak of $17.82 on April 29.
Here's what the silver price rally means for the metal's long-term performance this year…
What the Gains in the Silver Price Today Mean for Silver in 2016
Friday's action definitely stopped the dollar's upward momentum, which naturally boosted silver prices.
Silver reached an intraday high of $16.43, but it backed off a little to $16.35 by mid-afternoon.
So does this mean the silver price correction is over? It does provide support for that possibility, but I'm not sure we're out of the woods yet.
This chart shows why I think so: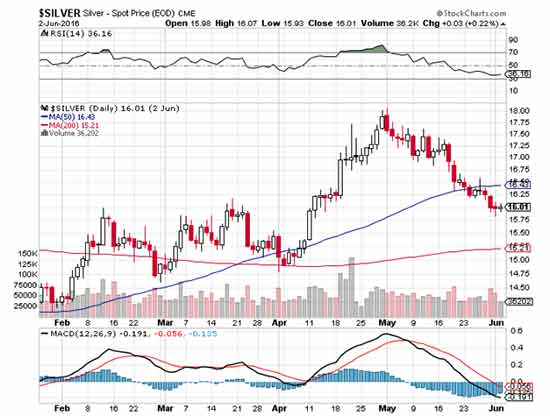 I'd be more convinced the correction is over if we see silver hold above its 200-day moving average around $16.43. I'd like to see the relative strength index (RSI) and moving average convergence divergence (MACD) indicators – which measure silver's oversold conditions – move up as well.
But I still think silver prices have seen a bottom, and they're poised to enjoy a strong second half of 2016.
Here are a couple of reasons…
According to a survey by consultancy group Metals Focus, silver is heading towards a deficit of 1,005 tonnes this year, up 27% from 793 in 2015.  That's because tight supply is forecast to drop 1% this year thanks to a 2% decline in mine output.
Sales of physical silver, especially coins, will keep rising at a robust pace.
In Australia, sales of silver bullion were up by 975,000 ounces in May. That's an incredible jump of 189% from May 2015. From January through May, silver sales for the mint were also up 164% year over year to 6.4 million ounces.
The U.S. Mint's American Silver Eagle sales spiked last month, making it the best May sales for the coin since its debut in 1986. Roughly 4.5 million coins were sold, more than doubling May 2015's sales of 2 million coins. Sales during the first five months are 38.2% higher than the first five months of 2015.
As physical demand runs higher and mining output declines, the logical direction for silver prices will be higher.
Don't miss any big moves in silver prices. Follow us on Twitter for the biggest silver price news.
Like us on Facebook: Money Morning
The Alternative to the Federal Reserve's "No-Alternative" Market: The weak jobs report has reduced the Fed's odds of hiking rates this month to nearly zero. The Fed's destruction of bonds, pension funds, and other investments has convinced investors that the only way to make money is the stock market. But there is an alternative every investor should consider before the Fed digs us a deeper hole…
Join the conversation. Click here to jump to comments…
About the Author
Peter Krauth is the Resource Specialist for Money Map Press and has contributed some of the most popular and highly regarded investing articles on Money Morning. Peter is headquartered in resource-rich Canada, but he travels around the world to dig up the very best profit opportunity, whether it's in gold, silver, oil, coal, or even potash.