Investors often seek out "dividend aristocrats" for their superior returns, but among this group there's an even higher class: dividend kings.
Dividend aristocrats are stocks that have increased their dividend annually for 25 years straight. Dividend kings are stocks that have increased their dividend annually for 50 years straight.
And dividend stocks aren't just for income investors. History has shown that dividend-paying stocks deliver the highest total returns, especially those that increase their dividend every year.
The true value of owning dividend aristocrats becomes more pronounced over time.
Take a look this chart.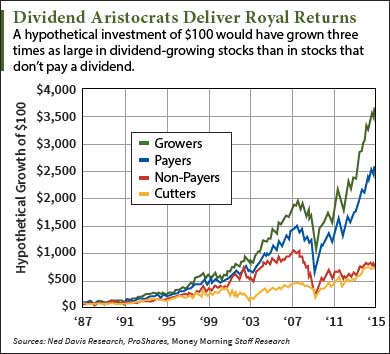 It compares the 28-year growth of a hypothetical $100 investment in four types of companies: Those that grow their dividends, those that simply pay a dividend, those that don't pay a dividend, and those that cut their dividends.
The results are eye-opening…
Why Investors Love Dividend Aristocrats
The contrast between companies that pay a dividend and those that don't is stark, with the dividend payers delivering triple the return of the non-payers. The dividend growers fared even better, besting the payers by about 40%.
The dividend kings, as you would expect, perform at the upper end of the range. Sure Dividend, which identified the 18 dividend aristocrats that qualify as kings, also calculated their 25-year return versus the Standard & Poor's 500.
A $100 investment in the S&P 500 Index in 1991 would have been worth $619 at the end of 2015. But a $100 investment in the 18 dividend kings – rebalanced each year – would have been worth a startling $2,667.
The reason dividend aristocrats (and especially the dividend kings) do so well is that only the healthiest, most stable companies can raise their payouts year after year after year.
"A company must have an extremely durable competitive advantage to pay increasing dividends for five consecutive decades," Sure Dividend founder Ben Reynolds observed in his dividend kings blog post.
Here's a closer look at the companies that have achieved dividend aristocrat status two times over…
Meet the Dividend Kings
Presented in alphabetical order:
Follow me on Twitter @DavidGZeiler or like Money Morning on Facebook.
Best Tech Stocks to Buy: It's clear by now that the next major opportunity in tech will be the "Internet of Things." It is estimated that $6 trillion will be spent on this tech revolution over the next five years. And we've found the one sector – and four stocks – that are the top picks to buy now to profit from this trend…
Related Articles: