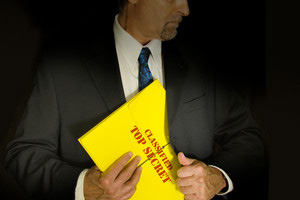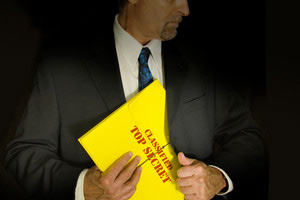 Just four years ago, Wall Street wanted nothing to do with Facebook stock.
Facebook Inc. (Nasdaq: FB) was trying to recover from a botched IPO and was fighting off lawsuits. Plus, everyone knows the popularity of social media sites can quickly disappear. Just ask Myspace.
But now, institutional equity investors (hedge funds, commercial trusts, investment banks) can't keep their hands off Facebook stock.
According to CNBC, Facebook is the 14th most-held stock among institutional equity investors.
But the reason they love Facebook stock is a secret to almost everyone. And they're withholding this information so they can reap the biggest profits.
But we know why these large institutions are loading up on Facebook stock.
Today, we are going let you in on this secret. But first, here's how Facebook stock has become one of the hottest stocks on Wall Street…
On May 18, 2012, Facebook started off on an ominous note with its botched IPO. That day, some traders stated that their orders were never completed, according to CNN. Others complained that shares were purchased at a higher price than what they placed their order for.
Traditional investors were already skeptical of this social media stock, and Facebook was facing several lawsuits about providing underwriters of the IPO with private information. Because of these issues, the Facebook stock price dropped to an all-time low of $18.08 per share on Sept. 4, 2012.
That was a 52% drop from its IPO price of $38 per share.
But the lawsuits were settled and the pains from the IPO wore off by April 2015. Now Facebook boasts 1.65 billion monthly active users (MAUS), and CEO Mark Zuckerberg's dorm-room creation is the fifth-most valuable company in the world in terms of market value as of February.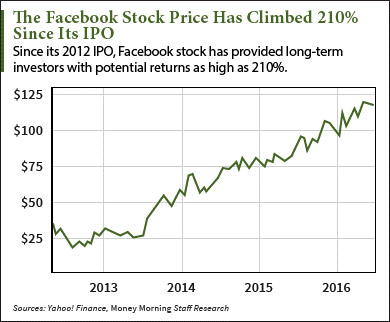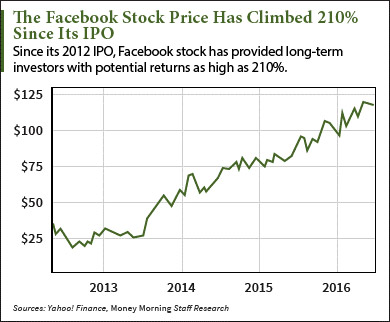 Today, Facebook stock opened at $117.72 per share. That's roughly a 210% increase from the Facebook IPO price, and a 551% increase from when Facebook stock opened at an all-time low of $18.08.
While the average investor may still view Facebook as just a social media company, large investors and billion-dollar investing institutions understand the real secret behind the social network.
Here's the secret reason why the largest investors in the world are loading up on Facebook stock…
The Facebook Stock Secret That Will Lead to 112% Gains by 2020
This is the secret the largest investors in the world know about Facebook: CEO Mark Zuckerberg wants to integrate Facebook into every part of your life.
And he wants to completely control how we communicate…
You see, these investors pouring billions of dollars into Facebook stock know that Facebook is more than just a social media company now. Slowly but surely, every way in which we communicate and interact in the world will be done through some form of Zuckerberg's company.
And Zuckerberg already has nearly 2 billion people on just two of his communication platforms…
Facebook owns two key platforms that are shaping the way we communicate: Messenger and WhatsApp.
Facebook Messenger allows you to send photos, gifs, recorded messages, and regular texts.
But Messenger is now allowing you to do even more, like send and receive money and even order an Uber.
Right now, businesses across the globe are integrating Messenger into their daily operations:
KLM Royal Dutch Airlines uses Messenger to provide flight updates, boarding passes, and allows customers to rebook flights.
Hyatt Hotels uses Messenger to accept reservations and answer customer questions.
Bauer Kitchen in Ontario allows customers to use Messenger to order drinks.
That makes using Messenger convenient, but it's the future applications of Facebook Messenger that are going to make it a part of your everyday life…
AJ Bell, an online investment platform, intends to launch a trading service on Messenger, according to Financial Times. AJ Bell customers will be able to communicate with a bot that can receive instructions to buy and sell stock.
Bell plans to launch this within the next three months, and it hopes to eventually allow traders to buy and sell stocks directly in Messenger.
As of April, Messenger had 900 million monthly active users (MAUs).
And Facebook's other messaging service, WhatsApp, is connecting more and more people across the world.
WhatsApp has many of the same features as Messenger, but it was originally unique because it allowed users to send text-like messages to other users without charging a short message service (SMS) fee.
So as long as your phone had an Internet connection, you could chat with people you knew across the globe without having to pay expensive texting fees.
As of January, WhatsApp had 990 million users, according to Wired.
Forbes projects that WhatsApp will generate $5 billion in revenue for Facebook by 2020. Deutsche Bank analysts believe that Facebook's messaging services will bring in a total of $9 billion to $10 billion annually by 2020.
And Facebook is also looking to be the go-to source for how you communicate at work…
Facebook Sets Its Sights on the Office
Facebook has been quietly working on a platform since July 2014 designed for workplace communication. This platform, called Facebook at Work, will allow workers to sign in to a Facebook group-like network created by their employer to share documents, images, and messages within the organization.
This is similar to the concept of Slack, a cloud-based collaboration tool that has an impressive client list, including:
But Facebook has a huge advantage over Slack with its 1.65 billion MAUs. There will also not be a learning curve for employees to learn how to use Facebook at Work, since so many people use Facebook.
According to The Wall Street Journal, over 60,000 businesses applied to test the program, but Facebook only worked with 300 companies as of July 2015.
Zuckerberg hasn't shared how or when he will monetize the program. But Julien Codorniou, director of global platform partnerships for Facebook at Work, says businesses that want more data analytic integration and customer service options will be charged a few dollars a month per user for the program.
Because Facebook at Work is essentially still in testing mode, there currently aren't estimates on how much it could be worth.
But we can use Slack as a rough estimate. According to data research firm DMR, Slack had 930,000 users and a projected annual revenue of $64 million. With an already built-in audience of 1.65 billion MAUs, Facebook at Work could generate billions in revenue if only 10% of regular users are in the Facebook at Work program.
Zuckerberg will have us all using one of his platforms to communicate in our everyday lives and at work. But he's also trying to get entire countries to use Facebook…
Facebook's Free Basics Program
Facebook does have 1.65 billion users, but there are still opportunities to add even more people to the social network site.
In an effort to connect people across the world, Zuckerberg has created a program called Free Basics. In areas where Internet is hard to come by, Facebook provides users with a stripped down version.
The program only provides access to a handful of websites, though. And of course, Facebook is included in the limited sites users can access.
Zuckerberg tried to get the program to take off in India, but the country rejected his proposal. Officials felt it went against the idea of net neutrality and argued that if free Internet was going to be provided, all Internet sites needed to be accessible.
India has since banned any companies from only offering limited Internet access.
Many will question whether Zuckerberg truly wants to help people with free Internet, or if he's just trying to find a way to add new users.
No matter what his true motivations are, countries like India still offer a huge opportunity for Facebook user growth. Research site Statista states that 108 million people in India were Facebook users in 2014, but that's less than 10% of the 1.25 billion people who live in the country.
According to The Guardian, Facebook users in developing nations are worth $1.22 per user as of January 2016. If Zuckerberg is able to add just 50 million more users from India, that could provide Facebook with an additional $61 million in revenue.
And that $61 million doesn't calculate the lifetime value of a Facebook user.
Free Basics is currently being used in 42 countries, according to Facebook. From Iraq to Rwanda, Zuckerberg is growing his global reach and power.
And because Facebook is growing its user base and revenue sources, Money Morning Director of Tech & Venture Capital Research, Michael A. Robinson, believes Facebook stock will trade for $250 per share by 2020. That's an increase of 112% from today's opening price of $117.72.
The Bottom Line: Institutional investors are aggressively adding Facebook stock to their portfolios because they know one powerful secret: Facebook is no longer just a social media site. Through an increase in users and revenue sources, guru Michael Robinson believes FB will trade for $250 per share in the next four years.
Jack Delaney is an associate editor for Money Morning. You can follow him on Twitter and follow Money Morning on Facebook. 
Readers – don't miss details on this bonus stock pick… the best "retirement stock" of 2016…