The price of silver is climbing today (Thursday, June 16) following the conclusion of yesterday's June FOMC meeting.
Earlier this morning, silver prices were up 1.4% and trading at $17.80. With those gains, the metal is now up 25% in 2016, and Money Morning experts see more gains ahead thanks to three long-term trends.
Before we get into our silver price prediction for 2016, here are the four short-term factors boosting silver prices today…
4 Reasons the Price of Silver Is Up Today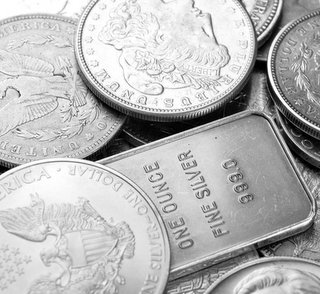 First Bullish Factor for Price of Silver, Fed Dovishness: The U.S. central bank left interest rates unchanged when it concluded its two-day policy meeting yesterday (Wednesday, June 15). The Fed also said it expects just one interest rate hike in 2016.
They project rates to rise to 1.6% in 2017 as opposed to the 1.9% estimate held in March. Janet Yellen and other Fed officials are also looking at raising rates to 2.4% in 2018. According to CME Group's FedWatch tool, market participants see a 7% chance of a July rate hike and a 29% chance in September.
Second Bullish Factor for Price of Silver, Interest Rate Nervousness: Japan's benchmark Nikkei index fell 3.1% today after the country's central bank left interest rates unchanged. The Bank of England announced a unanimous vote to keep rates unchanged at 0.5%. The Swiss National Bank also held pat, keeping its key rate at -0.75%.
The inaction comes ahead of the Brexit referendum on June 23. This vote will decide if the UK will leave the European Union. Recent UK polls show the "leave" camp is leading the "stay" camp, creating much uncertainty and anxiety in the marketplace.
Third Bullish Factor for Price of Silver, Low Bond Yields. The U.S. 10-year Treasury yield fell to 1.53% today – the lowest level since 2012. On Tuesday, the yield on the 10-year benchmark German bund fell into negative territory for the first time ever due to global growth concerns and Brexit jitters. It remains in negative territory at -0.02%.
Fourth Bullish Factor for Price of Silver, Market Volatility: U.S. markets have sold off all week as investors flee stocks and buy safe-haven investments like silver. Since Monday, the Dow Jones Industrial Average has fallen 1.2%. The VIX – which is the market's fear gauge – has climbed from 17 to 21.4 over the same period.
The silver price rally is also boosting silver exchange-traded funds (ETFs). Silver ETF holdings currently sit at 19,920 tons. That's the highest level since December 2014. Holdings have increased by 269 tons over the last two weeks alone.
And Money Morning Resource Investing Specialist Peter Krauth sees the rally continuing this year.
Here's his 2016 silver price target – plus the three factors that will drive prices to his target…
Watch the Price of Silver Hit This Target in 2016
Krauth sees silver prices surpassing the $20 mark this year thanks to these three trends…
First Bullish Trend for Price of Silver, Supply: The global silver supply is forecast to decline this year. CPM Group projects global silver mining production will slip 2.4% to just under 785 million ounces. If CPM's forecast pans out, 2016 will see the first decline in global production since 2011.
Second Bullish Trend for Price of Silver, Demand: Silver's demand is rising thanks to the metal's array of industrial applications. Silver is used in everything from batteries to solar panels. Each photovoltaic (PV) cell solar panel uses 20 grams of silver. Demand for solar power alone will increase silver demand by 70 million ounces. According to GTM Research, the U.S. solar market is expected to grow a huge 119% in 2016.
Third Bullish Trend for Price of Silver, Coin Sales: Silver coin sales in the United States, Canada, and Australia are all near record highs. Sales of American Silver Eagle coins rose to 4.5 million coins in May – a massive 122% increase from the same month last year. In fact, it was the best month of May for the Silver Eagle since its debut in 1986. The U.S. Mint projects sales of 60 million this year, which would be a 28% increase over 2015.
Follow us on Twitter @moneymorning and like us on Facebook for the most important silver price updates.
Readers – don't miss details on this bonus stock pick…the best "retirement stock" of 2016…
Related Articles: