You have to hand it to the Committee to Destroy the World - the central banks that are decimating the vitality of the global economy and the ability of financial markets to function. They may not have a clue about how to manage monetary policy, but they sure know how to screw it up.
But there is good news in their incompetence.
Right now, they are creating one of the great trading opportunities in history to profit from central bank stupidity and the willingness of the sheep in the investment world to be led to slaughter. This trade is potentially one of the biggest shorts I've ever seen.
To borrow a phrase from the Republican presumptive nominee, "It's going to be yuuuuuge."
Negative Interest Rates Don't Stimulate Growth - They Destroy Capitalism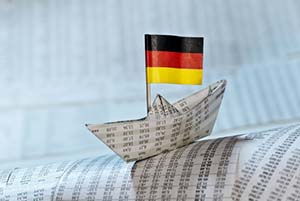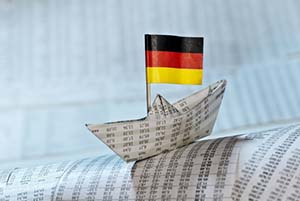 Last year, Bill Gross received a lot of attention when he told investors that shorting German bonds was the trade of a lifetime. Unfortunately, he failed to execute the trade properly and failed to capitalize. This was when the yield on 10-year German bonds hit 0.078 basis points. Shortly thereafter, rates backed up to .922 basis points, and the pigs that chased the yields down to then record lows got slaughtered.
Remember, when yields hit very low levels, it doesn't take a very big reversal to produce very large losses if you own bonds - or very large profits if you sell them short. And that is what I am recommending that you do. If central banks want to destroy the world, you might as well go along for the ride and make some money in the process.
German bonds are now trading at even lower yields than they were in 2015 - the 10-year bond yield hit one basis point last week. The European Central Bank already bought back $1 trillion of sovereign debt. But that didn't accomplish much so it started an insane scheme to buy back corporate bonds. This pushed the average yield on European investment-grade bonds below 1%.
Among the unintended consequences of this policy is that U.S. companies are shifting their borrowing to European markets since rates are roughly 200 basis points lower there than in the United States (the yield on the Barclays Corporate Investment Grade Index is 3%). This means that the ECB is now subsidizing borrowing by U.S. companies. Brilliant!
There are now more than $10 trillion - yes, that's TRILLION with a "T" - of sovereign bonds trading at negative yields around the world (primarily in Europe and Japan). This means that anyone dumb enough to buy one of these certificates of confiscation has to pay for the privilege.
The evidence is in - capitalism is being destroyed by former tenured economics professors who use outmoded models rather than common sense to set policy.
Negative interest rates are a confiscation of capital by the government. People should be screaming bloody murder about this, but instead the pompous television talking heads pontificate about how this idiotic policy will stimulate economic growth. Let me get this straight: A lender gives a borrower $100 and the borrower gives back $99 and that is supposed to grow the economy? That is supposed to create an incentive for the lender to hire more employees? To build a new plant? To start research on a new product? I don't know what planet the people who develop these policies live on but it is not one that operates according to logic or the rules of economics. Instead, it is the Planet of Crony Capitalism and the Corruption of Capitalism.
Negative interest rates will destroy the economic system if they persist too long or get too negative. Low interest rates are bad enough. They make it impossible for pension funds to earn a sufficient return on their capital to fund their liabilities, which keep rising every year by high single-digit percentages regardless of what they are earning on their investments. They make it impossible for insurance companies to operate profitably because they can't issue new policies without losing money since they can't earn a high enough return on their assets. Insurance companies in Japan and Europe are forced to eat into their capital bases to make up the shortfalls. And they make it harder for banks to make profitable loans since interest rates are so low.
We are already hearing of some European banks refusing to send their funds to the European Central Bank and instead storing cash in their vaults in order to avoid losing money on their deposits. In Japan, sales of safes have skyrocketed as people hoard cash.
While the most paranoid among us sit and worry about the next terrorist attack, the government has snuck into its citizens' bank accounts and effected a stealth attack on their savings while they weren't looking.
But you don't have to lie down and take it.
Here's How You Can Profit from Central Banks' Incompetence
Make no mistake about it - negative interest rates are the most destructive and intellectually indefensible policy in a long list of destructive and indefensible policies foisted on the world by central bankers since the financial crisis. Ben Bernanke, king of the clueless, thought it would be a good idea for investors to take more risk. But he only understands how markets work in theory, not in the real world. The result of his great idea is monetary disorder (remember, this is the same man who thinks we should drop money out of helicopters to stimulate the economy and doesn't think that gold is money).
But rather than let Bernanke, Yellen, Kuroda, Draghi, and the whole confederacy of dunces destroy us, we can fight back and make money from their fecklessness.
Investors should short every piece of long-dated European sovereign debt and investment-grade debt they can find.
As always, my favorite way to play the short side is to buy puts, which considerably cut back on the risk. I recommend that you buy long-dated puts on the Vanguard Total International Bond ETF (Nasdaq: BNDX), iShares International Treasury Bond ETF (Nasdaq: IGOV), or SPDR Barclays International Treasury Bonds ETF (NYSE Arca: BWX). Of the three, IGOV is the smallest, only $750 million in size. BWX and IGOV are both more heavily weighted towards Japan than I would like, but there are very few ways to gain short exposure to German bonds right now, and these are among the best options available.
Here are the individual weightings of all three ETFS (you can see the full details on etf.com, the source of these charts):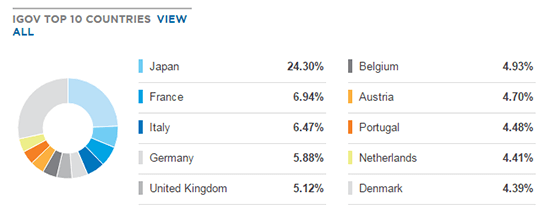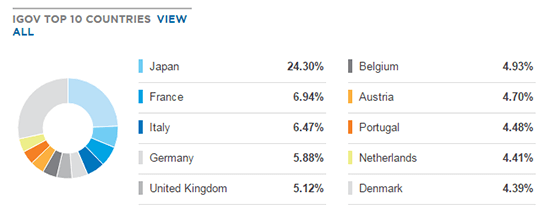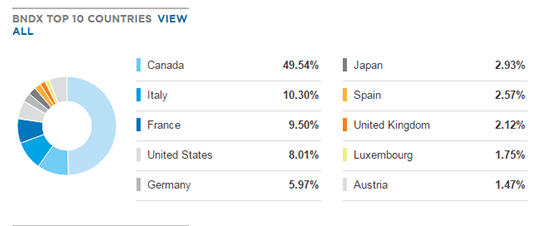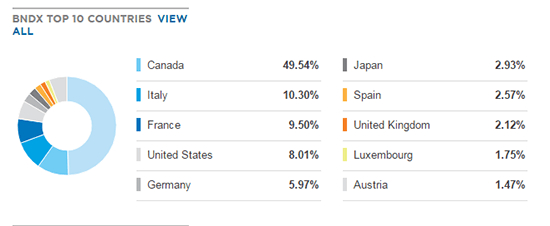 You can also short the euro through ProShares Short Euro (NYSE Arca: EUFX), which should do poorly when European bonds crash.
Follow Money Morning on Facebook and Twitter.
Editor's Note: As you navigate 2016's volatile market situation, your most valuable asset may be Michael Lewitt's free Sure Money service. In Sure Money, Michael helps you see what's going up, what's going down, and how to profit. Sign up now by clicking here, and you'll get instant access to all of Michael's investing tips, recommendations, and specific instructions, including his exclusive "Super Crash Report."
Join the conversation. Click here to jump to comments…
About the Author
Prominent money manager. Has built  top-ranked credit and hedge funds, managed billions for institutional and high-net-worth clients. 29-year career.