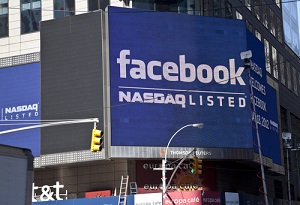 On June 20, shareholders placed their votes to approve CEO Mark Zuckerberg's motion for a Facebook stock split.
But because Zuckerberg controlled nearly 60% of the voting power as of April 28, the Facebook stock split vote was merely a formality. The vote obviously passed, but Facebook Inc. (Nasdaq: FB) has yet to state when the FB stock split will take place.
Because the mainstream media has had very little to say about the Facebook stock split, investors have been asking us for more details about the split.
Today, we are going to provide Money Morning readers with what will happen on the Facebook stock split day. We're also going to explain how to play FB stock before the split.
Back in December 2015, Zuckerberg shared a Facebook post stating he would donate 99% of his FB stock to the Chan Zuckerberg Initiative (CZI).
Donating $45 billion is extremely generous, but there was one problem: Zuckerberg would lose his voting power in the company if he donated away his Facebook stock.
You see, every Class A Facebook share carries one vote per share. Every Class B FB share carries 10 votes per share. In order to keep that control, Zuckerberg created a 3-for-1 stock split with new Class C shares.
These Class C shares will not have any voting power, which allows the 32-year-old CEO to retain control of the company even as his FB shares are donated. All of Zuckerberg's $45 billion worth of shares will still retain voting power, so he will not have to worry about other shareholders holding more votes than he does.
This will allow Zuckerberg to gradually donate his shares while still maintaining control of the company.
And while voting power is important, one of the biggest questions investors have been asking us is how the Facebook stock split will impact the FB stock price...
On the day of the Facebook stock split, the Facebook stock price will change. But the value of Facebook shares will stay the same. That means if Facebook trades for $110 a share before the split, shares would be worth $36.66 on the day of the split. Investors would own a total of three Facebook shares, though, making the total value of their Facebook stock $110.
For a comparison, take a look at the Under Armour stock split. On April 8, Under Armour Inc. (NYSE: UA) offered a 2-for-1 stock split, which will be similar to Facebook's offering.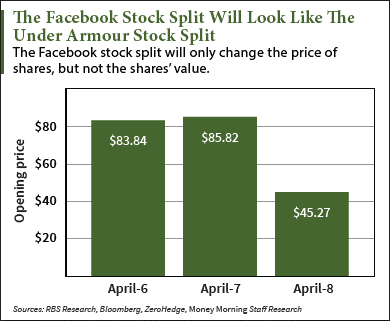 Now that you know how the split will work, here's what you want to do before the official Facebook stock split....
How to Play the Official Facebook Stock Split
The Facebook stock price has climbed 27.3% in the last 12 months, and we expect it to keep climbing for three reasons:
Instagram
WhatsApp/Messenger
Oculus Rift
Zuckerberg is still not receiving enough credit for turning Instagram into a massive revenue source. When Facebook purchased Instagram in 2012 for $1 billion, it didn't generate revenue and had just 30 million users.
Today, Instagram now has over 500 million monthly active users (MAUs). And analysts project Instagram earned as much as $750 million in 2015.
By 2017, eMarkerter believes Instagram will account for up to 10% of Facebook's global revenue.
Aside from the massive revenue from Instagram, Zuckerberg is slowly readying WhatsApp and Messenger for monetization...
As of January, WhatsApp had 990 million total users. According to Wired, Messenger had 900 million MAUs as of April. Messenger users can use the communication platform to book flights, order food, and even send money to their friends and family directly through the app.
Analysts at Deutsche Bank AG (USA) (NYSE: DB) project WhatsApp and Messenger will generate as much as $10 billion in combined revenue annually by 2020.
And while Zuckerberg is adding billions of revenue through his picture app and communication platforms, he is conquering a whole new industry: virtual reality.
In 2014, Facebook purchased Oculus VR for $2 billion. Right now, there isn't much to the virtual reality (VR) industry outside of games.
But the future applications of VR are what Zuckerberg is after...
Zuckerberg believes the technology for VR will be used for a lot more than just games in the next several years. Eventually, you could put on a VR headset and have front-row seats to big-ticket events from the comfort of your own home.
The Facebook CEO also believes VR can be used to connect teachers and students, as well as help patients and doctors have face-to-face interactions while not in the same room.
Tractica, a market intelligence firm, believes the sales revenue from VR accessories, VR content, and head-mounted displays will reach $21.8 billion across the globe by 2020.
And because the Facebook stock price is seeing a temporary slide along with the global markets because of Brexit, now is a great time to add FB shares to your portfolio. Money Morning Director of Tech & Venture Capital Research Michael A. Robinson projects FB stock will trade for $250 per share by 2020.
That's a potential profit of 123% in just four years from today's opening price.
The Bottom Line: Even though there isn't an exact date for the Facebook stock split, we still recommend adding FB stock to your portfolio before the split. Instagram, WhatsApp, Messenger, and Oculus VR will add billions in revenue for Facebook. And now that the FB stock price is experiencing a sell-off, savvy investors can buy shares cheaper than usual.
Jack Delaney is an associate editor for Money Morning. You can follow him on Twitter and follow Money Morning on Facebook. 
Next - A Bailout Won't Save Twitter: Twitter shareholders are hoping that a tech giant will come in and save the sluggish social media service. But here's why you shouldn't bet on a bailout...