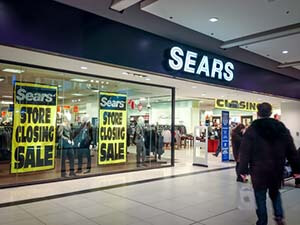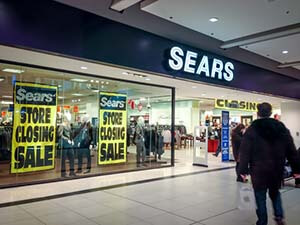 Here's a shocking stat: Since 2007, Sears Holdings Corp. (Nasdaq: SHLD) has closed half of its locations and cut 137,000 jobs, according to The Wall Street Journal.
CEO Edward Lampert, who took the helm in 2013, blames changes in consumer spending habits and the rise of e-commerce for the downfall of Sears.
And Lampert is right -- American shopping habits are changing...
Between February 2015 and May 2016, 11 well-known retailers filed for Chapter 11 bankruptcy:
Cache, February 2015
Radio Shack, February 2015
Frederick's of Hollywood, April 2015
Anna's Linens, June 2015
Quicksilver, September 2015
American Apparel, October 2015
Wet Seal, January 2016
Hancock Fabrics, February 2016
Sports Authority, March 2016
Pacific Sunwear, April 2016
Aeropostale, May 2016
You see, the Internet has made it far more convenient for Americans to shop online. Consumers can avoid inconveniences like spending extra gas money, fighting for parking spaces, and having only a limited selection of options to peruse in-store.
When you think about it, the fact that companies like Amazon.com Inc. (Nasdaq: AMZN) have disrupted Sears' business is actually ironic.
That's because Sears was a disruptor of the retail industry itself, back in 1888...
Why Sears Used to Work
In small rural towns before the 1900s, farmers bought their goods at general stores. The store owners could charge a high markup on their goods because farmers couldn't shop around for the best deals. The selection would also be limited.
Having previous success selling watches through a mail-order catalog business, Richard Warren Sears and Alvah C. Roebuck saw an opportunity to improve their sales process by making it more convenient.
Sears and Roebuck published the first Sears Catalog in 1888, offering farmers a diverse selection of goods at clearly stated prices. Sears expanded its catalog by 1894 to include sporting goods, automobiles, bicycles, and sewing machines (remember how Amazon started out as just a book seller?).
By 1895, the catalog was 532 pages.
According to Sears Archives, sales for the duo exceeded $750,000 in 1895. The Inflation Calculator from WestEgg.com suggests that $750,000 in 1895 would have equaled over $21 million in 2015.
But Sears' rich history is coming to an end...
On April 21, 2016, the company announced it would close 10 Sears stores and 68 Kmart stores. Fortune stated after these closures there will be fewer than 700 Sears stores left.
The only positive news for Sears last year was that it lost less money in 2015 ($1.1 billion) than in 2014 ($1.7 billion).
Does that indicate there's a glimmering hope of a turnaround for the 130-year-old retailer?
Will Sears Survive 2016?
Employees have a front-row seat to a company's turnaround efforts. They know what works, what doesn't, and they know how customers are responding to changes.
And according to an expose from Business Insider, some employees predict Sears will close all of its physical stores within the next 10 years...
Workers told BI that Sears is not only firing employees to save money, but it's also drastically cutting hours. Workers reported there were instances where some stores wouldn't even have designated cashiers.
One Kmart employee who was let go after 41 years of service said that employees at her store had not received any type of raise in eight years.
Sears' products themselves are the biggest issue.
In terms of clothes and fashion, the retailer loses out to Target Corp. (NYSE: TGT) because Target's clothes are fashionable and affordable. In April, Target began offering the Marimekko for Target collection, which is a Finnish design house known for its bold colors and designs. Tops and shorts in the collection retail for as little as $19.99.
Sears tried to be relevant, offering the Kardashian Kollection in 2011. The line was a flop, and Fortune reports that a particular sheath dress had to be marked down from $189 to $29.99 just to try to get it out of the store. Sears and the Kardashian clan cut ties in early 2015.
In terms of offering rewards or a way to save money, Sears quickly lost credibility with consumers with its Show Your Way loyalty program, according to a former Kmart assistant manager. He stated that the program was filled with exclusions, and items would often not ring up as advertised or generate loyalty points as expected. The former employee also stated that the program caused items scanned per minute to decrease from 18 items to five.
Because of the issues, he stated his family would choose to shop at Wal-Mart Stores Inc. (NYSE: WMT) instead of Kmart because there were no gimmicks.
BI reviewed a message board that Sears and Kmart employees use for communication and found the quality of products sold had severely declined over the years. One employee said half their store was on clearance, but people either didn't want the items or returned them because they were defective.
One employee who claimed to work in Sears' automotive section stated that the majority of their stock consisted of "cheap crappy tires."
So not only do Sears and Kmart offer inferior products that no one wants, but they can't even offer an enjoyable experience through customer service.
If you wanted to buy a "crappy tire," there might not even be anyone to ring you up at the register...
This is an insight into the culture of Sears right now, which indicates the retailer is on its last legs.
But we had to look at the numbers before completely counting out Sears...
Sears Is a Money-Losing Machine
From 2014 to 2016, Sears' total revenue has decreased by 30.51%.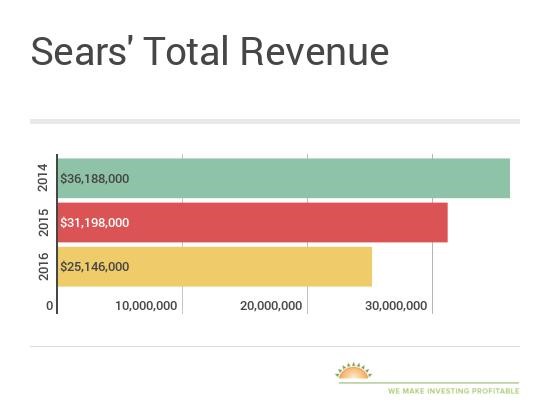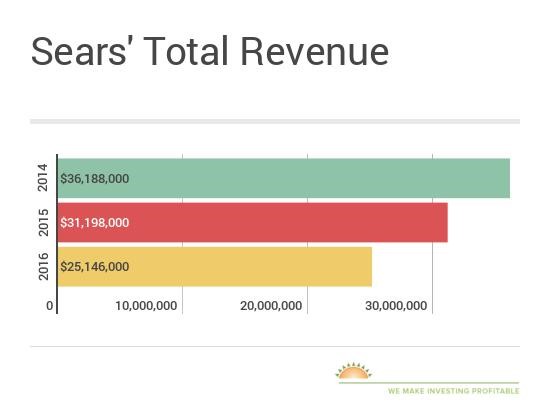 According to Fortune, comparable sales for Sears have declined every year since 2005. The company has also recorded a total of $8 billion in net losses since 2010.
Flagging sales forced the company to go on a selling spree...
To keep the lights on, Lampert spun off Lands' End in 2013. He also created a complicated deal in 2014 where he sold off the majority of Sears Canada to his own investment firm for $340 million.
And last July, Sears sold off $2.7 billion worth of its real estate to Seritage Growth Properties Inc. (NYSE: SRG).
But Sears is still having to heavily borrow money. The company secured a $750 million loan due by July 2020 in March, and then another $500 million loan in April. For the April loan, $125 million is due in July 2017, according to Bloomberg.
Fortune stated that Sears already drew $250 million of the $500 million loan as of April 9.
Eventually, Sears will run out of assets to sell. And its massive debt will leave it with few options - outside of bankruptcy.
Did you think Sears will go bankrupt in 2016?  Let us know on Twitter @moneymorning and Facebook.
Brexit: Buy the Rumor, Sell the Fact: In 1992, George Soros broke the Bank of England by shorting the sterling pound. It was a move that made him $1.5 billion. Now, the Bank of England is about to break itself. Before the Brexit vote on June 23, we discovered two ways to profit during the chaos. Here's how...
Related Articles: