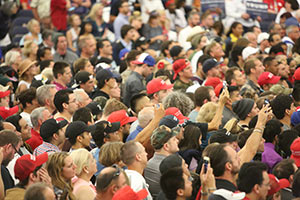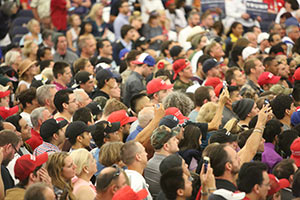 Some unruly delegates who will be at the GOP convention on July 18-21 don't want it to run smoothly.
In fact, they're planning an all-out mutiny against Donald Trump in an effort to deny him the nomination. Those allegedly involved include big name RNC party members like Utah Sen. Mike Lee, Free the Delegates Leader Kendal Unruh, and Ted Cruz delegate director Ken Cuccinelli, according to CNN.
Here's how they intend to foil Trump at the Republican National Convention this month…
Anti-Trump Delegates Plan to Change GOP Convention Rules
According to many reports, these rogue delegates are trying to unbind a large portion of Trump's delegates, which would allow them to choose an alternative candidate during the first ballot. [Editor's Note: Curious about delegate and voting protocol at the GOP convention? Use our guide.] The organizers want to see the Republican Party's rules change so they can "vote their conscience," Bloomberg reported.
For the Rules Committee to pass a rule to unbind delegates on the spot, it would take the support of 56 out of the 112 delegates. That's a lot, and definitely a longshot, but it's not the only option for anti-Trump delegates.
It would take at least 28 votes out of 112 (nearly a quarter) from the Rules Committee for the rogue delates to be allowed to issue a so-called minority report. This report could then be presented to the full convention on Monday. But even so, the full convention would have to accept to minority report for delegates to become unbound. The committee is expected to meet both Thursday and Friday.
There's still a catch. Even if the rogue delegates succeeded in unbinding delegates, it would still be difficult to deny Trump the nomination…
Trump won 306 more delegates than he needed to in order to clinch the nomination. That's about 25% more than the required number of delegates, at 1,237. So nearly 25% of Trump's delegates would have to defect to another candidate for there to be a contested convention.
Reince Priebus Just Called "Unbind" Efforts Futile
The rolodex of GOP convention mutineers haven't kept their plot secret. Quite the contrary; they've been loud and proud to the point where GOP Chairman Reince Priebus is fully aware of the clash that looms…
But Priebus seemed a picture of confidence today (Thursday) that these anti-Trump efforts will fail, according to Bloomberg.
Priebus, who met with the 112-member RNC Rules Committee this morning, appeared to have talked with "never Trump" delegates, according to CNN. The GOP chairman allegedly wanted to prevent a messy fight on the convention floor.
Regardless, he said that ultimately, anti-Trump delegate efforts will fall flat because they won't have the majority vote needed for a rules change.
Breaking: Trump's Deportation Plan Could Cripple the Economy, Says Hillary Clinton Mouthpiece
Up Next
What is a contested convention, exactly? Believe it or not, there's actually a whole set of rules for how a contested convention would be played out.
And if anti-Trump forces succeed in unbinding the delegates, there's a small chance we could see the first contested convention since 1980.
Related Articles:
Follow Money Morning on Facebook and Twitter.