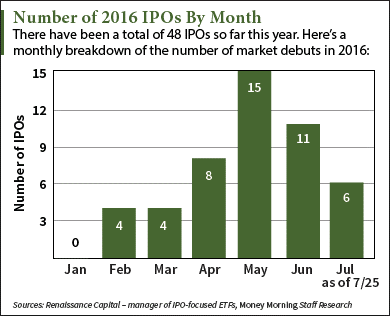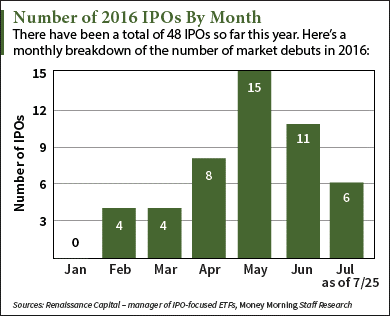 This week's upcoming IPO calendar includes four companies set to close out the month of July. Renaissance Capital – manager of IPO-focused exchange-traded funds (ETFs) – says the four new IPOs this week will raise a combined $424 million.
July has been a banner month for the 2016 IPO market. The tech sector received a shot of life when Line Corp. (NYSE ADR: LN) hit the market on July 14. Line raised $1.15 billion and became the biggest tech IPO since the Alibaba IPO in 2014. Several 2016 IPOs have outperformed the S&P 500's 3.6% gain by a huge margin. These companies include Twilio Inc. (NYSE: TWLO) and Acacia Communications Inc. (Nasdaq: ACIA), which are up 10.4% and 56.5% so far this month.
Editor's Note: These five companies are set to be the biggest IPOs of 2016. One could even be the biggest offering of all time…
The biggest IPO finishing out the last week of July is Bioventus Inc. (Nasdaq: BIOV).
Bioventus is a healthcare firm providing products for treating musculoskeletal and bone conditions. Founded in 2012, the firm sells both surgical and noninvasive products that treat chronic pain from bone diseases like osteoarthritis.
The company's most lucrative treatment is hyaluronic acid, which is injected to lubricate bone joints to treat osteoarthritis. This treatment made up roughly 83% of Bioventus' total first-quarter sales. From April 2015 to April 2016, the company posted sales of $266 million.
The Bioventus IPO will raise $150 million by offering 8.82 million shares at a $16 to $18 price range. According to Renaissance Capital, the company is valued at $566 million and will hit the market on Friday, July 29.
Here are the three other firms on the upcoming IPO calendar, including a high-growth tech company in a $16 billion market…
Three More Companies on the Upcoming IPO Calendar (July 25 – July 29)
Kadmon Holdings LLC (NYSE: KDMN) is a biotech company developing treatments for various types of illnesses. The firm's treatments are mainly enzyme inhibitors that target cancerous tumors, fibrosis, and autoimmune diseases. The New York-based firm was founded by Sam Waksal, the former head of oncology biotech ImClone who was imprisoned for insider trading. Kadmon is now led by his brother Harlan Waksal.
The Kadmon IPO is set to generate $100 million by selling 5.56 million shares for $16 to $20 each. The firm commands a $651 million valuation and will start trading on Wednesday, July 27.
Don't Miss: The Internet of Things is creating a $6 trillion market – and these five stocks are the best way to grab a piece of those gains for yourself.
Kinsale Insurance Co. (Nasdaq: KNSL) is an insurance company based in Richmond, Virginia. The company is one of the leading providers of property and casualty (P&C) insurance in the United States. It's set to be the first insurer in the P&C industry's excess and surplus segment – an area of the insurance market that lets customers buy P&C insurance through non-state-regulated providers. The firm was founded in 2009 and raked in $96 million in sales from March 2015 to March 2016.
The Kinsale IPO will raise $90 million by offering 6 million shares at a $14 to $16 price range. It's valued at $315 million and will debut on Thursday, July 28.
Talend SA (Nasdaq: TLND) provides big data, cloud, and data management services. The company benefits from the strong growth of the cloud data industry, which is currently valued around $16 billion. Although Talend is unprofitable, it boasts several big-name customers like Citigroup Inc. (NYSE: C) and General Electric Co. (NYSE: GE).
The Talend IPO hopes to replicate the success of recent tech IPOs like Twilio and Line. Talend is set for an $84 million deal by selling 5.25 million shares at a price range of $15 to $17. It has a $476 million valuation and will begin trading on Friday, July 29.
Next Up: A Backdoor Way to Profit Now on a New $240 Billion Market
Alex McGuire covers the IPO sector for Money Morning. Follow him on Twitter for important IPO updates.