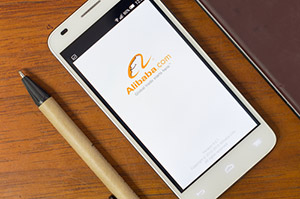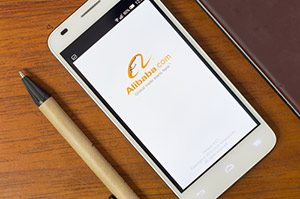 The Alibaba stock price is soaring 5.5% to a 52-week high of $92.76 today (Thursday) after the company crushed earnings. BABA stock is now up nearly 8% in the last five trading sessions.
But Money Morning experts think this is just the start of the Alibaba stock price rally.
We've been bullish on Alibaba Group Holding Ltd. (NYSE: BABA) stock since it hit the market in 2014. It has been volatile since coming to market, but investors who followed our re-recommendation in February have banked gains of 51% in six months.
Before we get into why we remain bullish on the Alibaba stock price in 2016, here's why the stock is soaring today:
Alibaba posted Q2 2016 earnings per share (EPS) of $0.74 per share. That was $0.11 better than the $0.63 EPS expected.
Editor's Note: The Internet of Things will revolutionize the way we live. And five companies will be at the center of this $6 trillion revolution…
Alibaba also reported a 59% increase in revenue. The company's total revenue climbed to 32.15 billion yuan ($4.84 billion). That was up from 20.25 billion yuan last year. The consensus estimate was for 30.17 billion yuan.
Mobile revenue in China surged 119.3% to 17.51 billion yuan ($2.6 billion).
Monthly mobile active users soared 39%.
A major milestone for Alibaba was achieving higher monetization of mobile users than non-mobile users for the first time.
Gross merchandise volume (GMV), the amount of money spent over its platforms, climbed 24.4% to 837 billion yuan. In June, Alibaba said in the future it would only release GMV figures on an annual basis. The switch happened after a disclosure from the SEC earlier this year that it was looking into the company's accounting practices.
Alibaba's cloud-computing business saw paid users increase to 577,000 from 263,000 last year. That boosted revenue by a whopping 156%. Alibaba's cloud services, along with Microsoft's (Nasdaq: MSFT) Azure, are the largest in China.
While these earnings numbers were all bullish for the Alibaba stock price now, we maintain a long-term view of the company. And there are numerous catalysts for the company that make Alibaba stock an excellent long-term investment…
Why We're Bullish on the Alibaba Stock Price Long Term
Alibaba has been expanding and diversifying its business as it faces the prospects of a saturated online retail market in China.
In April, Alibaba acquired Singapore-based online retailer Lazada Group for about $1 billion to boost its presence in Southeast Asia.
Must Read: Our Newest Gold Price Prediction Shows 271% Returns by 2020
Alibaba has also been venturing into cloud and driverless vehicles as it looks for fresh areas of growth.
Last year, the company also launched a Netflix Inc.-like (Nasdaq: NFLX) streaming business.
Back in April, Money Morning Director of Tech & Venture Capital Michael A. Robinson said the Alibaba stock price was undervalued near $80 per share and that the company has "a strategic depth that foreign companies can't even buy."
"China's economy is transforming into a consumer-driven one, much like the U.S. economy," said Robinson. "And don't forget that the U.S. economy is barely growing at 2%, so even if China isn't firing on all cylinders, it's still trouncing the growth in other parts of the developed world."
Of the 42 analysts that cover Alibaba, 32 rate the stock "Buy." Three maintain an "Overweight," and seven have a "Hold." The average price target is $98.72, according to data from The Wall Street Journal.
At $92.40, the Alibaba stock price is up 19% over the last year.
Editor's Note: Most people associate the Bill Clinton years as a booming era for the economy. But that couldn't be further from the truth. Here's why…
Follow us on Twitter @moneymorning and like us on Facebook.
Related Articles: