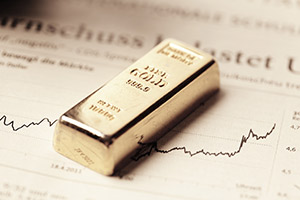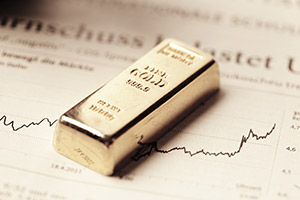 Today, we're bringing investors the best gold ETF they can buy right now. That's because gold prices are up about 25% year to date, with even more gains expected before the end of the year.
Gold prices have enjoyed a steady rally this year due to a number of factors. And that has made our best gold ETF pick an even stronger buy...
First, the Dow Jones Industrial Average dropped 10% in the first six weeks of 2016. That sent investors piling into safe-haven investments like gold. A 5.5% tumble in the S&P 500 during the first two months of 2016 pushed gold prices up 16.5% over the same period. Q1 2016 marked gold's best quarterly performance in three decades.
But a number of other factors have contributed to the rise in gold prices since then.
The use of negative interest rates and lack of confidence in global central banks continues to draw investors to gold. And the UK's June 23 decision to leave the European Union created a great deal of uncertainty that will weigh on global markets for years.
The European Securities Market Authority said in a semiannual address earlier this week that the Brexit has worsened Europe's economic outlook. But it's still unknown exactly how the Brexit will impact global markets.
Of course, the markets hate uncertainty. And that has been one of the biggest reasons that global central banks have been buying so much gold in 2016.
According to Capital Economics, central bank gold demand in Q1 2016 increased 28% from last year. Banks are trying to diversify away from the U.S. dollar, with several economies looking for protection against currency volatility. Russia has been the most active gold buyer, purchasing 46 tons of the yellow metal in Q1. China was the second-largest buyer with 35 tons.
These factors have all driven gold prices in 2016 and will continue to do so going forward. And when gold prices are climbing, that makes gold ETFs excellent investments.
But not every ETF is the right pick. That's why we've selected the best gold ETF to buy today...
The Best Gold ETF to Buy Now
The purest way to play gold is to own the physical metal. But holding coins and bars can be pretty burdensome. Delivery, storage fees, and insurance can makes owning physical gold arduous.
Trending: This penny stock could double your money - and save a dying industry at the same time. Click here to learn more...
But gold ETFs can make investing in gold easy and liquid.
One of the best gold ETFs to buy now is the SPDR Gold Trust (NYSE Arca: GLD). It offers investors an innovative, cost-efficient, and secure way to participate in the gold market.
GLD trades just like a stock. That means investors can buy and sell gold via the trading of a stock that's on a regulated stock exchange.
The value of GLD is directly correlated to the value of the gold held by the ETF (less expenses), as well as fluctuations in the price of gold.
Listed on the New York Stock Exchange in November 2004 and traded on NYSE Arca since Dec. 13, 2007, GLD is the world's largest, most popular, and heaviest-traded physically backed gold ETF. It boasts a market cap of $34.16 billion.
In the first week of March alone, more than $1.1 billion was invested into GLD. That was the largest amount of money flowing into any exchange-traded product, according to FactSet data.
This year's robust and steadfast GLD activity reflects the edginess investors have in the stock market and global economy. Even as markets staged strong rallies in March and April, gold prices and this ETF kept climbing.
The upcoming U.S. presidential election, the most contentious in recent memory, also has investors on edge. Stock market volatility is a given no matter who wins.
GLD is up 23% year to date. In comparison, the Dow, S&P 500, and Nasdaq are up 5.34%, 5.85%, and 3.825, respectively.
Up Next: There's a way to bank profits on gold no matter what prices are doing. Here's everything you need to know about the precious metal in our new guide on gold investing...
Follow us on Twitter @moneymorning and like us on Facebook.
Related Articles: