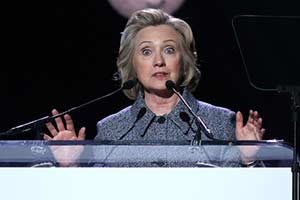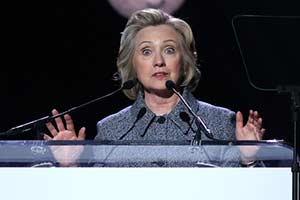 Hillary Clinton's fundraising currently beats Donald Trump's by a factor of almost 3 to 1. But what's even more astonishing is that Clinton's massive fundraising haul is being supported by industries that have typically backed Republicans since at least 2009, like finance and energy...
For example, the financial sector has contributed $47.5 million to Clinton's campaign, according to the Center for Responsive Politics. That represents over 10% of her total fundraising amount of $435 million.
Compare that to Trump, who has received a mere $502,455 from the same sector. That only represents nearly 0.3% of his total fundraising amount of $160 million.
Individuals who work within the oil and gas industry have also donated $525,000 to Clinton through July 30, the end of the most recent fundraising period. That's $376,000 more than Trump has received from these individuals over the same time period, according to Yahoo Finance.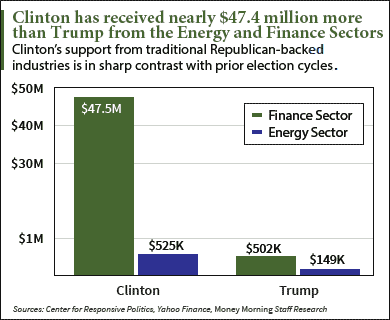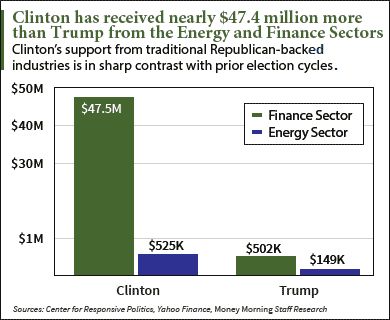 Trump has been outspokenly pro-energy on the campaign trail. He has shown strong support for the struggling coal industry and has also expressed support for big oil. And for someone who has received few donations from Wall Street, Trump has said he wants to repeal the very bane of the financial sector: the Dodd-Frank Act. Remember, this was the bipartisan act that was supposedly meant to rein in Wall Street after the 2008 Financial Crisis.
So what gives? Big energy and finance typically have way more to gain from Republicans than Democrats. At least, that's how it's been recently...
Why Big Energy and Finance Have Favored Republicans Since 2009
Financial Industry
It's no secret why Republicans get a lot of support from corporations. Republican presidents are typically pro-business and pro-corporate America - and Trump is no different. A lower corporate tax rate, industry subsidies, less regulation: these are all things that Trump and his fellow Republicans support. Conversely, Clinton has said she wants to be tougher on Wall Street, provide less subsidies for the oil and gas industry, and leave the corporate tax rate mostly unchanged.
Just take a look at the last presidential election...
During the 2012 cycle, Mitt Romney received $23 million from the financial industry - more than three times President Barrack Obama's $6.8 million haul.
The 2008 election cycle is a notable exception. President Obama raised about $10 million more from the financial industry than John McCain. But McCain had a relatively paltry campaign finance operation, raising only $360 million compared to President Obama's nearly $750 million. During the 2010 midterm elections, however, Republicans enjoyed 67% of total donations from Wall Street-related industries, according the CRP.
Oil and Gas Industry
As for oil and gas, it has been one of the GOP's biggest backers for decades, according to Yahoo Finance. In 1989, the industry funneled $500 million into U.S. elections. Sixty percent of those donations went to the Republican Party, according to the CRP.
So why are the energy and finance industries backing Clinton even though Trump has shown so much support for them?
There are two big reasons why...
Why Clinton's Fundraising Gets a Rare Boost from GOP-Dominated Industries