There are a record number of states voting on marijuana legalization this election cycle, and that is a massive boon to the fast-growing marijuana industry.
There are five states voting on marijuana legalization when voters trek to the polls on Nov. 8. Those five states include Arizona, California, Maine, Massachusetts, and Nevada.
On Election Day 2016, voters in Arkansas, Florida, and North Dakota will cast ballots on whether their states will start comprehensive medical marijuana programs. In Montana, voters will decide if restriction on their state's existing marijuana programs should be relaxed.
Marijuana legalization supporters say that these marijuana initiatives on the ballot provide advocates with more experience. The marijuana legalization vote also helps raise awareness for their campaigns.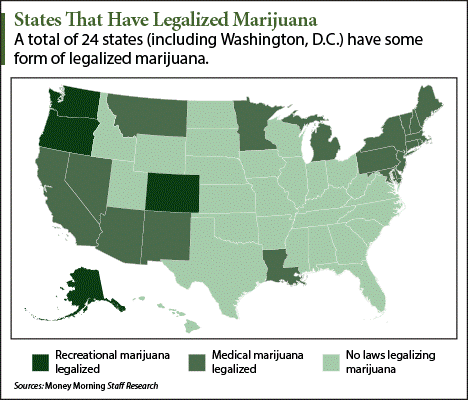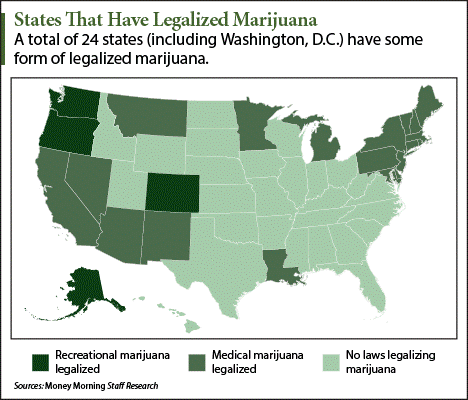 So far, four states and the District of Columbia have legalized recreational marijuana use via voter referendums. Meanwhile, 25 states have approved medical marijuana programs.
Medical marijuana is used for the treatment of pain associated with a variety of diseases and conditions. It is also used to lower eye pressure in patients with glaucoma, reduce anxiety, slow the progression of Alzheimer's disease, and lessen side effects and increase treatment effectiveness from Hepatitis C therapies.
Studies are ongoing to uncover even better and other ways to use medical marijuana. It's a big business that continues to get substantially bigger.
And that has created an extremely bullish market for marijuana stocks...
States Voting on Marijuana Legalization Will Boost Marijuana Stocks
To date, 39 states have passed legislation approving marijuana for medical or recreational use. Collectively, the marijuana industry brings in $4.4 billion annually. That figure grows every year.
The medical marijuana industry is projected to surpass $40 billion in the next five to 10 years. If marijuana is legalized nationwide, the industry could swell to $100 billion by 2050. That's according to a March 2016 report by Ackrell Capital.
And states that have legalized marijuana are appreciating a significant spike in revenue thanks to "green taxes."
In fact, TaxFoundation.org reports that nationwide legalization-and-tax regime could see states raise billions of dollars annually in marijuana tax revenue.
Marijuana tax collections in Colorado and Washington have far exceeded initial estimates.
Colorado's retail marijuana sales began on Jan. 1, 2014. Following a slow start (with two in five purchases made by out-of-state patrons), Colorado marijuana tax revenue now vastly exceeds original estimates of $70 million per year. The $56 million Colorado took in during 2014 grew to $113 million in 2015. It will likely exceed $140 million in 2016.
With a bright spotlight on how lucrative the marijuana market already is, and its massive potential growth, interest and investment in the marijuana market has swelled.
EDITOR'S NOTE: On Nov. 8, as many as 20 states will vote to legalize marijuana. The vote is expected to create one of the biggest wealth grabs in history, transforming everyday Americans into millionaires overnight. As a service to Money Morning readers, we're now making available a 90-page cannabis investing guide called The Roadmap to Marijuana Millions. This "bible of weed investing" reveals the world's top marijuana stocks every serious investor should consider right now. Normally valued at $499, it can be yours absolutely free. To learn how to get your free copy, click here. This offer is only available to the first 500 people who respond today. So please go here now to reserve your copy.
Follow us on Twitter @moneymorning and like us on Facebook.
Related Articles: