When I called my editor and told him that I was going to write today's column showing you how to double your money with Google - now known as Alphabet Inc. (Nasdaq: GOOGL) - he reacted like many investors do...
...But, that stock is $800 a share!?
Yep... but that doesn't mean you have to give up on it.
Today I want to show you a powerful Total Wealth Tactic that could double your money even with a pricey stock like Google... for pennies on the dollar.
Here's what you need to know.
Make 2X Your Money
Most investors dream big, and rightfully so.
Companies like Google are the stuff legends are made of. Every $1,000 invested in the internet behemoth when it IPO'd would be worth $18,800.00 today.
Don't Miss: How Small Investors Can Take on Wall Street... and Win
If you're rolling your eyes at that statement, you're not alone.
For most investors, Google is a painful reminder of an investment they should have made, but didn't. It's the "one that got away" and they're scared to touch it today... either because they think they don't have time to wait, or it's too expensive.
I understand, but let's get those things off the table right now because they're self-defeating.
If you're going to make investment decisions based on what you didn't do, then you may as well try to drive while looking out the rear view mirror.
Google is a power player and, as such, it's the company to beat.
Not only is the Silicon Valley giant redefining the internet, but Google has 10 or more $100 billion businesses within it that have yet to be unlocked, involving everything from artificial intelligence to cloud computing, self-driving cars, and more. That means the stock is going to move.
But in which direction? And how do you play that at $800 a share without getting burned?
A quick look at the chart suggests Google stock is trending higher in what traders call a "bullish channel." It's not pretty, but it's quite clear and it points sharply higher. What's more, that's on top of a textbook perfect breakout earlier this week when the stock shot up to close at an all-time high of $801.50 after trading as high as $804.63.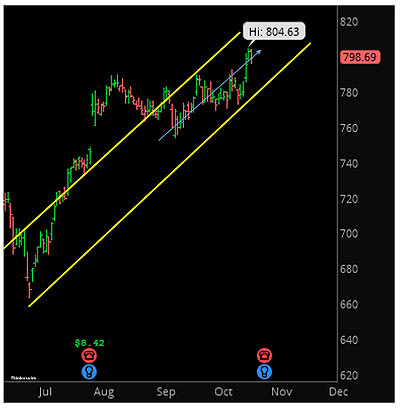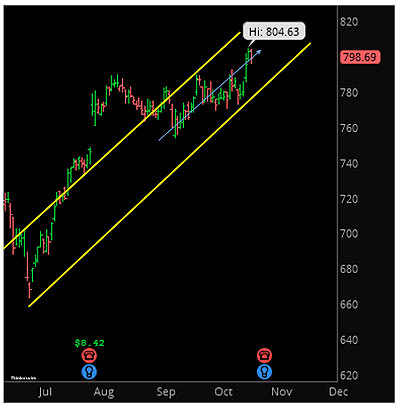 That's important because the first step in making any trade is to have an opinion about what happens next. In this case, it's that Google is going to move higher.
My guess is to the psychologically important $1,000 a share range, and that means you're going to have to have deep pockets to play along.
A single share will set you back around $800. A round lot of 100 shares will lighten your wallet to the tune of $80,000. Either way, you'll be risking a lot of money for a 25% gain.
So let me show you an alternative that could do dramatically better.
Join the conversation. Click here to jump to comments…
About the Author
Keith is a seasoned market analyst and professional trader with more than 37 years of global experience. He is one of very few experts to correctly see both the dot.bomb crisis and the ongoing financial crisis coming ahead of time - and one of even fewer to help millions of investors around the world successfully navigate them both. Forbes hailed him as a "Market Visionary." He is a regular on FOX Business News and Yahoo! Finance, and his observations have been featured in Bloomberg, The Wall Street Journal, WIRED, and MarketWatch. Keith previously led The Money Map Report, Money Map's flagship newsletter, as Chief Investment Strategist, from 20007 to 2020. Keith holds a BS in management and finance from Skidmore College and an MS in international finance (with a focus on Japanese business science) from Chaminade University. He regularly travels the world in search of investment opportunities others don't yet see or understand.