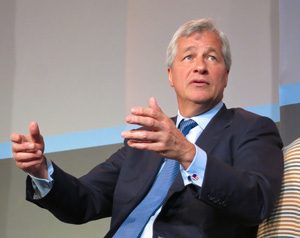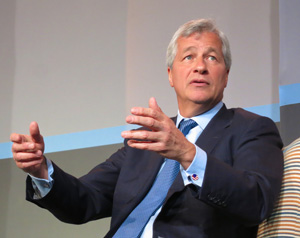 Whether or not you love Wall Street, Jamie Dimon has proven a capable CEO of JPMorgan Chase & Co. (NYSE: JPM) since he took the helm in 2006...
As of 2015, Dimon has produced a 111% shareholder return since becoming CEO. And he led JPMorgan through one of the worst financial crises since the Great Depression.
Part of Dimon's success is owed to his unique skillset and leadership style. Here's what we mean...
5 Things You Didn't Know About Jamie Dimon
1) Dimon accepted full responsibility for the 2012 London Whale crisis.
Good leaders know better than to pass off the responsibility of big mistakes to their underlings -- that's a mistake former Wells Fargo CEO John Stumpf should be able to attest to. In this case, a trader-gone-wild named Bruno Iksil (AKA the London Whale) helped run up esoteric credit default swap bets that cost the bank over $6 billion in 2012. It was a major embarrassment for Dimon, who later said the strategy was "flawed, complex, poorly reviewed, poorly executed, and poorly monitored," according to The Wall Street Journal on May 11. What's worse, the trades took place in a unit that reported directly to Dimon.
Rather than craftily dismissing his oversight -- or easier yet, blaming Iksil -- Dimon took full responsibility. In testimony to Congress, he told Sen. Jeff Merkley that "we made a mistake. I am absolutely responsible. The buck stops with me," according to Vanity Fair in November 2012.
2) Dimon saved Bear Sterns and 300,000 jobs at Washington Mutual.
In March 2008, Bear Sterns, a financial firm that heavily traded mortgage-backed securities, was on the brink of failure. To prevent it from collapsing, Dimon led JPMorgan to buy the company for $29 billion. JPMorgan assumed all of Sterns' risky exposures. Later in 2008, JPMorgan did the same with Washington Mutual, saving thousands of jobs.
At the time, no other institution wanted to take over these risky and dangerous financial firms.
BONUS: This stock just received one of the biggest "Buy" signals shares can get – and it pays a 6.6% dividend yield. Click here to get the pick.
But Dimon stepped up to the plate, and in doing so, he helped save the financial industry from collapsing. As a side note, because Dimon took over the balance sheets of these troubled banks, he also had to pay a $13 billion settlement with the Department of Justice for those firms' misdeeds.
3) Dimon steered JPMorgan Chase away from peddling mortgage-backed securities (MBS) before the 2008 financial crisis. 
While most other big banks like Bear Sterns, Lehman Brothers, Morgan Stanley, and Goldman Sachs were making risky MBS trades, JPMorgan was not. In fact, it was one of the few investment banks that largely discouraged the practice before the financial crisis, which is how it was able to absorb troubled firms during the crux of the debacle.
Dimon was undoubtedly the major hand behind restricting his traders from being tempted by MBS trades. In 2006, he was credited for ordering his bank's chief of securitized products to deleverage more than $12 billion worth of subprime mortgages.
4) Despite having a net worth over $1.1 billion, Dimon is not an "extravagant man."
According to those who work closely with Dimon, he doesn't live like a typical big bank CEO, Vanity Fair reported in November 2015. Heidi Miller, once listed by America Banker as one of the most powerful women in banking, worked for Dimon for 18 years. In an interview with Vanity Fair, she recounted: "I swear, if his wife didn't point out shirts that match his suits, I'm not sure what he would look like in the morning, half the time. I always think of him as somewhat rumpled. He is oblivious to the trappings of very fancy things."
Dimon is not a member of the ritzy Augusta National Golf Club, unlike his two predecessors at JPMorgan Chase. In fact, he doesn't even play golf, Vanity Fair reports. During his five years living in Chicago from 2000 to 2005, when he was the CEO of Bank One Corporation, Dimon didn't attend a single black-tie charity event, despite expectations that he should as a corporate leader, according to Vanity Fair.
And in 2004, after the merger of Bank One and JPMorgan Chase, Dimon spent his two-week vacation at a weekend house in Bedford, New York. He was alone, making his own coffee and perusing around the local Target in his wrangler jeans, Vanity Fair reported.
Continue reading to see our No. 5 fact about Dimon that you might not expect. This quality of Dimon's is one of the reasons JPMorgan was so prepared going into the 2008 Financial Crisis, relative to other big banks.
5) Dimon runs JPMorgan with a conservative business approach.
Taking risks is a big part of how investment banks make money. But Dimon runs JPMorgan with a more conservative approach. While most bankers look at the potential upside of a deal, Dimon looks at what could go wrong. He insists that JPM maintain a "fortress balance sheet," according to USA Today. As of December 2015, JPMorgan has an operating income of $30.7 billion. That's $22.7 billion more than Morgan Stanley (NYSE: MS), and $17.9 billion more than Goldman Sachs Group Inc. (NYSE: GS), according to FactSet.
For instance, when unemployment rates are low and financial conditions are stable, Dimon modeled what the finance world would look like if rates climbed to 10%. That way he could simulate how JPMorgan would function under a depressed economy.
Follow Money Morning on Facebook and Twitter.
Here Are 10 "One-Click" Ways to Earn 10% or Better on Your Money Every Quarter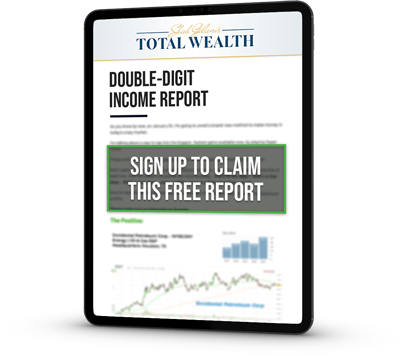 Appreciation is great, but it's possible to get even more out of the shares you own. A lot more: you can easily beat inflation and collect regular income to spare. There are no complicated trades to put on, no high-level options clearances necessary. In fact, you can do this with a couple of mouse clicks – passive income redefined. Click here for the report…