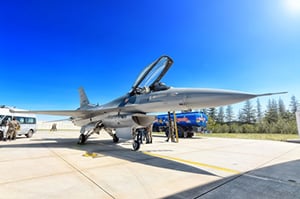 One of the best defense stocks to buy now could benefit heavily from a hawkish President Donald Trump.
President-elect Trump has made it clear that he wants to rebuild the U.S. military, which he says is "depleted." One estimate says Trump will likely increase military spending by $500 billion to $1 trillion, according to a Forbes report. Trump himself hasn't released an exact figure - yet.
Before we get to one of the best defense stocks to buy, here's a closer look at Trump's plan to boost defense spending...
Trump's Massive Defense Spending Plan
Trump has repeatedly criticized President Obama for not spending enough on the military.
In reality the United States has the largest military budget in the world as of 2016, according to the Stockholm International Peace Research Institute. The U.S. defense budget for 2015 was $596 billion, or nearly 3.3% of the U.S.' gross domestic product.
This is good news for defense investors. Because it means the U.S. defense budget will only get bigger under Trump...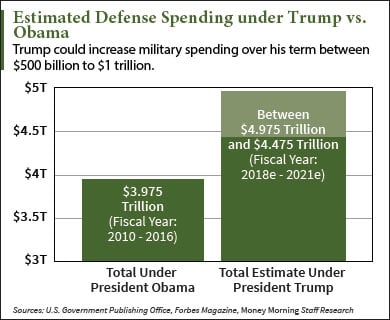 In Trump's campaign for the presidency, he called for 90,000 more Army soldiers, at least 100 more fighter jets, and a 350-ship navy, according to Forbes.
Another clue about Trump's aggressive stance on military spending: He has been working on his defense plan with the National Defense Panel and the Heritage Foundation, according to William Hartung, an analyst with the Center for International Policy. Hartung says both of these organizations have supported returning the defense budget to levels of FY 2012 (under Defense Secretary Robert Gates), which was about $800 billion to $900 billion higher over 10 years than President Obama's most recent budget request.
Since Republicans have majorities in Congress, it will be much easier for Trump to pass a bigger defense budget. And besides, increased military spending often has bipartisan support, according to Forbes.
Buckle up for a massive defense spending spree. And one of the best defense stocks to buy now will be one of the largest beneficiaries...
One of the Best Defense Stocks to Buy When Trump Becomes President