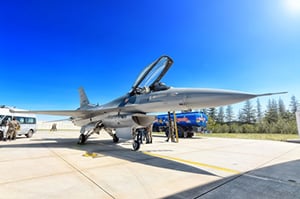 One of the best defense stocks to buy now could benefit heavily from a hawkish President Donald Trump.
President-elect Trump has made it clear that he wants to rebuild the U.S. military, which he says is "depleted." One estimate says Trump will likely increase military spending by $500 billion to $1 trillion, according to a Forbes report. Trump himself hasn't released an exact figure - yet.
Before we get to one of the best defense stocks to buy, here's a closer look at Trump's plan to boost defense spending...
Trump's Massive Defense Spending Plan
Trump has repeatedly criticized President Obama for not spending enough on the military.
In reality the United States has the largest military budget in the world as of 2016, according to the Stockholm International Peace Research Institute. The U.S. defense budget for 2015 was $596 billion, or nearly 3.3% of the U.S.' gross domestic product.
This is good news for defense investors. Because it means the U.S. defense budget will only get bigger under Trump...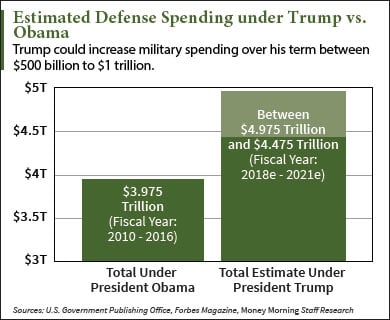 In Trump's campaign for the presidency, he called for 90,000 more Army soldiers, at least 100 more fighter jets, and a 350-ship navy, according to Forbes.
Another clue about Trump's aggressive stance on military spending: He has been working on his defense plan with the National Defense Panel and the Heritage Foundation, according to William Hartung, an analyst with the Center for International Policy. Hartung says both of these organizations have supported returning the defense budget to levels of FY 2012 (under Defense Secretary Robert Gates), which was about $800 billion to $900 billion higher over 10 years than President Obama's most recent budget request.
Since Republicans have majorities in Congress, it will be much easier for Trump to pass a bigger defense budget. And besides, increased military spending often has bipartisan support, according to Forbes.
Buckle up for a massive defense spending spree. And one of the best defense stocks to buy now will be one of the largest beneficiaries...
One of the Best Defense Stocks to Buy When Trump Becomes President
[mmpazkzone name="in-story" network="9794" site="307044" id="137008" type="4"]
We predict Lockheed Martin Corp. (NYSE: LMT) will benefit greatly under Trump's presidency.
Lockheed has put itself in the best position possible to take advantage of Trump's call to get the best equipment and technology for the U.S. military.
According to a leaked Trump campaign memo from October obtained by the Navy Times, Trump wants to grow the U.S. fighter fleet from 900 to 1,200 planes, which is nearly 200 more than he said on the campaign trail. The fastest way to do that would be to increase the Pentagon's budget for the F-35A fighter, which is made by Lockheed, according to FP. The Air Force would need an extra $30 billion over the next four years to accomplish this.
Trending Story: Get the Best Investing Research Today to Grow Your Money
Lockheed currently has a $400 billion contract with the Pentagon to produce at least 2,400 of these advanced fighter jets. If Trump's administration were to announce it is indeed fattening up this contract - that would be a boon for LMT stock.
Additionally, Lockheed's Sikorsky Aircraft division is currently working on a new vertical take-off and landing technology called Aerial Reconfigurable Embedded System (ARES). The ARES vehicle is unmanned and can carry gigantic payloads, including tanks, rovers, and dozens of soldiers. Once fully developed, Trump's administration will be eager to grab ARES contracts to support troops in the Middle East.
Lastly, Lockheed is tapped into one of the most powerful "Unstoppable Trends" of all time: War, Terrorism, and Ugliness, according to Money Morning Chief Investment Strategist Keith Fitz-Gerald. Fitz-Gerald, who has more than 30 years of professional investing experience, uses so-called Unstoppable Trends when picking his top long-term investments. These are trends that will continue for years to come...
With the growing threat of ISIS and tensions in the Middle East, you can expect Fitz-Gerald's "war trend" to get even uglier.
President-elect Trump has vowed to eliminate ISIS, which could require years of additional military involvement in the Middle East. And while that's unfortunate, Lockheed makes must-have products that the U.S. military needs to be a world-class fighting force.
Based on an average of 21 analyst estimates, LMT has a target price of $273 per share. That's about 3.8% higher than its current price. Additionally, 48% of those analysts give Lockheed an "Overweight" - or buy - rating, while 52% give it a "Hold" rating. Lockheed also has an attractive dividend with an annualized payout of $7.28 and a yield of 2.76%. Management also has a history of increasing LMT's dividend since 2003.
The Bottom Line: Lockheed stock has a lot to gain from President-elect Trump. Trump's call to increase military spending will boost Lockheed's sales, and it's already one of country's biggest military contractors.
Up Next: Move Fast - Because This "Singularity" Tech is Traveling at 760 MPH...
Stay informed about what's going on in the markets by following us on Twitter @moneymorning or liking us on Facebook.