If Nov. 8 felt like a "disruption in the Force," that's because it was.
The election of Donald Trump is going to hugely disrupt a lot of things in Washington and around the country and the globe. I've already told you how the new administration could shift billions of dollars toward defense technology. And I'll be sharing more thoughts like that on how and where to shift your own portfolio in the weeks and months to come.
But here's one thing that Trump isn't going to change…
I'm talking about the greatest money-making opportunity we'll see in our lifetimes. That's the Singularity Era and all the innovations coming out of Silicon Valley and elsewhere that this brand-new era represents – and that will make you 10x gains.
So today I want to show you a technology that is poised to disrupt passenger transportation and, therefore, how we live in this Singularity Era.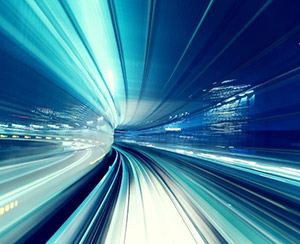 Thanks to this transportation tech, you'll be able to ride on solar-powered, magnetically levitated rail cars that will get you from New York to Chicago in roughly an hour. This budding technology could, in fact, be the fifth great transit mode after boats, trains, cars, and airplanes.
I know, I know – you've heard it all before…
But this isn't just plans on a blueprint stuffed away on some nerd's cloud account.
In fact, one of this technology's developers just unveiled its concept for this futuristic transport system that could deliver passengers in the United Arab Emirates from Dubai to Abu Dhabi at roughly 700 mph in 12 minutes.
That's normally a two-hour drive.
Let me show you what I'm talking about…
Elon Musk's Latest Vision
Back on June 28, when I first told you about Hyperloop technology, I focused on two American firms that are racing to get their systems up and running.
Turns out, my analysis of this tech wave's impact was too conservative.
In recent weeks, I've seen several new developments that demonstrate how this platform can extend well beyond transportation.
And that is just one more piece of evidence for what I've been saying for a few weeks now…
Don't Miss: This is your ticket to bigger and better returns… and it won't cost you a penny. What are you waiting for? Read more… 
The Singularity Era was born Aug. 1, when Apple Inc. (Nasdaq: AAPL), Amazon.com Inc. (Nasdaq: AMZN), Alphabet Inc. (Nasdaq: GOOGL), and Microsoft Corp. (Nasdaq: MSFT) – all high-tech companies – were the four most valuable companies in the Standard & Poor's 500 Index.
That was the first time that ever happened. And this new paradigm is now driving the whole economy and will be the leading source of wealth for decades to come.
The Hyperloop is a transit system that can connect major cities at speeds up to 760 mph.
That kind of speed would change the very nature of our daily lives. People in San Francisco might be able travel to Los Angeles for dinner… in 35 minutes… meaning they could return home that night. You could attend a conference five states away – and be back in your own bed the same night.
Of course it took a tech visionary like Tesla Motors Inc. (Nasdaq: TSLA) founder Elon Musk to dream this up. Back in 2013, at the headquarters of his Space Exploration Technologies Corp. (SpaceX), he laid out how this novel technology would operate.
Somewhat oddly, Musk didn't see this as a way to add billions to his own net worth. Instead, he wanted other firms to use his basic designs to help make the Hyperloop a reality.
So far, two firms have taken up that challenge. Hyperloop One, based in Los Angeles, and Hyperloop Transportation Technologies (HTT), which got started in part through a crowdfunding campaign, have been completing key designs, testing various components, and building relationships with the key decision makers in cities around the world.
One of those places that is looking at getting a Hyperloop up and running is Russia.
Join the conversation. Click here to jump to comments…
About the Author
Michael A. Robinson is one of the top financial analysts working today. His book "Overdrawn: The Bailout of American Savings" was a prescient look at the anatomy of the nation's S&L crisis, long before the word "bailout" became part of our daily lexicon. He's a Pulitzer Prize-nominated writer and reporter, lauded by the Columbia Journalism Review for his aggressive style. His 30-year track record as a leading tech analyst has garnered him rave reviews, too. Today he is the editor of the monthly tech investing newsletter Nova-X Report as well as Radical Technology Profits, where he covers truly radical technologies – ones that have the power to sweep across the globe and change the very fabric of our lives – and profit opportunities they give rise to. He also explores "what's next" in the tech investing world at Strategic Tech Investor.