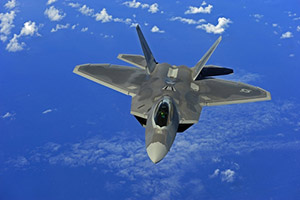 One of the best defense stocks to watch now is already up over 20% year to date (YTD), and this stock has plenty of profit potential left. In fact, the stock could rise nearly 7% from its current price of $258 per share, according to the mean analyst rating from FactSet.
One catalyst in particular – President-elect Donald Trump – could help this stock soar to new heights…
One analyst expects Trump could increase military defense spending by up to $1 trillion, which would be a major boon for our favorite defense stock to watch now.
Before we look more closely at this defense stock, here's how Trump could increase military spending – and create windfall profits for defense stock investors…
How Trump Could Increase Military Spending by $500 Billion to $1 Trillion
Trump repeatedly called the U.S. military "depleted" during his campaign rallies for the national election. And most recently on Dec. 7, he echoed the same sentiment while visiting Fayetteville, N.C., on a nationwide "thank you" tour. Trump reaffirmed his commitment to arming the military with the best equipment and technology.
Trump has also signaled his commitment to the military through his cabinet appointments. So far, Trump has appointed several generals as advisors or high-level secretaries. Most recently, Trump said he nominated former retired Marine Gen. James "Mad Dog" Mattis as Secretary of Defense.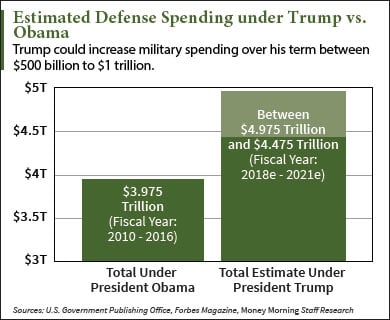 Trump is also rumored to have selected retired Marine Gen. John F. Kelly to head the Department of Homeland Security.
One estimate from Forbes says Trump could increase military spending by $500 billion or even up to $1 trillion. So far, Trump himself hasn't mentioned an exact spending figure.
Already, the United States has the largest military budget in the world as of 2016, according to the Stockholm International Peace Research Institute. For 2015, the U.S. defense budget was $596 billion – nearly 3.3% of the entire U.S. gross domestic product.
That's great news for our favorite defense stock to watch now, because it signals that the U.S. defense budget will balloon even more under Trump's presidency.
Trump has been working closely on his military defense plan with the Heritage Foundation's National Defense Panel, according to William Hartung, an analyst at the Center for International Policy. Hartung said Heritage, which is a well-connected conservative organization, supports returning the military budget to levels of fiscal year 2012, which was about $800 billion to $900 billion higher over 10 years than President Obama's most recent FY 2016 budget request.
Don't Miss: The Three Best Defense Stocks to Buy in 2017
Republicans are fortunate to have majorities in Congress – and this almost guarantees that Trump will have an easier time getting a big defense budget approved. What's more, lawmakers across the aisle supported increased military spending over the years, according to Forbes.
All indicators point to a huge defense spending binge under Trump's presidency. And for one of the best defense stocks to watch now, things couldn't look any better…
This Is One of the Best Defense Stocks to Watch