Last week, I pointed out how silver had been outshining gold for the last few weeks and even months. And now silver prices today (Monday) are up another 1.4% to roughly $17.05 in morning trading.
The strength in silver prices has carried over from last week.
In fact, if you compare the two metals over multiple time periods, like one week, one month, three months, and even six months, silver's behavior looks even more impressive.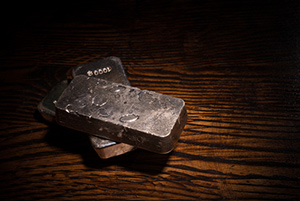 What's going on? Well I think there are two reasons. First, after peaking in early 2011, silver prices suffered much greater losses than gold when they bottomed a year ago. So silver had become extremely oversold.
Second, silver's multiple applications (other than a store of wealth) mean there are a number of sources of demand that go beyond what is the case for gold.
Remember, the price of silver is a whole lot more volatile than gold. But that's precisely what can make it so attractive. With reasonably good timing and some patience, silver investing can offer returns that are difficult to match almost anywhere.
Urgent: Rare gold anomaly – an event so rare, it's only happened twice in 20 years. And it's about to happen again. Find out more.
Before we look at what's next for silver prices today, here's a look at how the price of silver has been trending…
Silver Prices Today Climb Again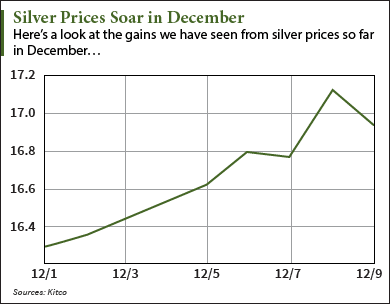 Silver prices had a surprising performance last week…
Early in the week brought your garden-variety volatility. On Monday, the silver price opened down at $16.63, then saw buying pressure through the day, taking it to $16.71 by the close.
Tuesday was the reverse, with silver opening at $16.81, then succumbing to midday pressure. It traded down to $16.69 by the close that afternoon.
Wednesday was the big surprise. It was pretty run of the mill overnight trading that took silver prices to $16.75 by the open. But from there it exploded higher to reach $17.15 within the first two hours of trading. It peaked at $17.18 by 1:00 p.m., then weakened a little to close at $17.09.  Interestingly, the U.S. dollar didn't fluctuate all that much, trending slowly downward on the day.
Thursday actually saw silver prices give up some of those gains. After opening at $17.04, the precious metal kept heading downward to close sub-$17 at $16.99.
Friday brought a weaker open to silver at $16.88. It quickly spiked to $17.08 at 8:30 a.m., then took its cue from gold and gave back nearly $0.28 to trade down to $16.80 by midafternoon.
Silver prices today are back over $17 as traders now switch their focus to the FOMC meeting this week. Here's where I see the price of silver heading now…
Where Silver Prices Head from Here
Join the conversation. Click here to jump to comments…
About the Author
Peter Krauth is the Resource Specialist for Money Map Press and has contributed some of the most popular and highly regarded investing articles on Money Morning. Peter is headquartered in resource-rich Canada, but he travels around the world to dig up the very best profit opportunity, whether it's in gold, silver, oil, coal, or even potash.