Let's say you've got a friend, a friend who works as an investment banker, and he gifts you with some inside information. Not for any compensation, just because he wants you to make some bacon, and you make $1.5 million on the trade. Is that cool?
Believe it or not, it used to be. But it's not any more. The U.S. Supreme Court just decided that the free gift of inside information is illegal for you to trade on.
The questions before the court were, if the person passing along the inside information isn't paid or compensated for gifting you with it, how can that be a crime? And, if the person acting on the tip doesn't know the tipster is breaking some fiduciary duty they have, how can the person who makes a trade on that information be committing a crime?
Those questions were answered previously by a New York Appellate Court in the negative - no, it wasn't a crime.
So what happened?
Here's what you need to know to stay on the right side of the new law...
Determining the Value of Inside Information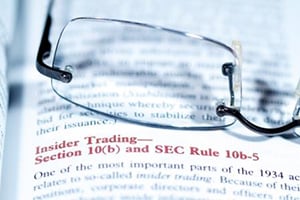 Prosecutors in California had charged one-time Chicago grocery wholesaler Bassam Yacoub Salman with one count of conspiracy to commit securities fraud and four counts of securities fraud, alleging Salman earned $1.5 million trading on inside information.
On Sept. 1, 2011, Salman was convicted on all counts in the U.S. District Court for the Northern District of California.
Don't Miss: How to Make a Killing... When Everyone Else Is Panicking
The government said the tips Salman got originated with Maher Kara, then a Citigroup investment banker who gave the information to his brother, who in turn passed it on to his brother-in-law, Salman.
Salman appealed, to no avail. Then another case came up on appeal that gave Salman's attorneys hope.
In 2014, the U.S. Court of Appeals for the Second Circuit vacated the insider-trading convictions of two individuals on the ground that the government had failed to present sufficient evidence that they knew the information they received had been disclosed in breach of a fiduciary duty.
In United States v. Newman and Chiasson, the court said:
Join the conversation. Click here to jump to comments…
About the Author
Shah Gilani boasts a financial pedigree unlike any other. He ran his first hedge fund in 1982 from his seat on the floor of the Chicago Board of Options Exchange. When options on the Standard & Poor's 100 began trading on March 11, 1983, Shah worked in "the pit" as a market maker.
The work he did laid the foundation for what would later become the VIX - to this day one of the most widely used indicators worldwide. After leaving Chicago to run the futures and options division of the British banking giant Lloyd's TSB, Shah moved up to Roosevelt & Cross Inc., an old-line New York boutique firm. There he originated and ran a packaged fixed-income trading desk, and established that company's "listed" and OTC trading desks.
Shah founded a second hedge fund in 1999, which he ran until 2003.
Shah's vast network of contacts includes the biggest players on Wall Street and in international finance. These contacts give him the real story - when others only get what the investment banks want them to see.
Today, as editor of Hyperdrive Portfolio, Shah presents his legion of subscribers with massive profit opportunities that result from paradigm shifts in the way we work, play, and live.
Shah is a frequent guest on CNBC, Forbes, and MarketWatch, and you can catch him every week on Fox Business's Varney & Co.