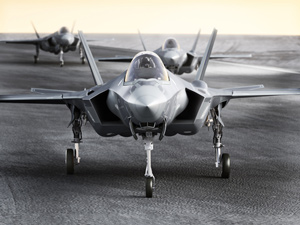 The three top defense stocks are poised to rise in 2017 as global military spending tops $2 trillion annually.
In fact, roughly 2.5% of global gross domestic product (GDP) is dedicated to military spending.
That's a great environment for defense stocks. So, what are the top defense stocks?
We'll tell you Money Morning's choices for the top defense stocks now in a moment. But first, here's why military spending is making our three defense stock picks some of the best investments on the market today…
Military Spending Will Propel Our 3 Defense Stock Picks
Money Morning Chief Investment Strategist Keith Fitz-Gerald has long believed that his "Unstoppable Trends" are the best way to identify companies that will give investors good returns.
Unstoppable Trends are social, political, and cultural forces that will happen whether markets are up or down. The six Unstoppable Trends are:
War, Terrorism, and Ugliness
Technology
Health
Demographics
Energy
Scarcity
Stocks that are firmly based in the Unstoppable Trends and smartly managed will outperform the markets. Even if the markets correct, their companies' products will still be bought. And if their products are still bought, revenue will roll in. Then profit will result. And profit is the force that drives share-price moves.
Now, as Fitz-Gerald observes, it's not a good thing that the Unstoppable Trend of War, Terrorism, and Ugliness is on the rise throughout the world.
But this trend is a reality…
Don't Miss: How to Make a Killing… When Everyone Else Is Panicking
As populations rise and gain access to new technology (including technologies of war), some of them grasp bad ideas. These bad ideas take root and grow. And somewhere, War, Terrorism, and Ugliness ensues.
Some of our top defense stocks now are highly invested in stopping wars and preventing accelerations of this Unstoppable Trend. So don't see investing in our top defense stocks now as pro-war, but as more of a concern with protection, rather than aggression.
The United States leads the world in military spending. The $596 billion spent here is 37% of the worldwide total spent on defense, according to experts at the Stockholm International Peace Research Institute.
The next largest military spenders are: China, Saudi Arabia, Russia, the United Kingdom, India, France, and Japan. These countries account for $567 billion in military spending, according to the National Priorities Project.
Going forward, Fitz-Gerald believes that these countries – including the United States – will all be increasing their military spending to protect their resources.
Moreover, many of these seven next-largest spenders will be developing economically. As they do, more of their GDP can be dedicated to technology. And that encompasses military technology.
That's one big reason military spending will grow.
But the other reason is that countries all across the globe pursue military spending. Peaceful countries invest in defense to prevent war.
Other countries who want more resources, expanded territory, or that have specific belief systems, invest in military spending for aggression and conquest.
All of Money Morning's top defense stocks now are based in the United States. They will benefit heavily from President-elect Donald Trump's views on the military and the Pentagon.
During Trump's campaign for presidency, he repeatedly criticized President Obama for not spending enough on the military. The top defense stocks now have already done very well in 2016, with double-digit gains.
Now they stand to do very well in 2017, too…
Here are our three top defense stocks to buy now…