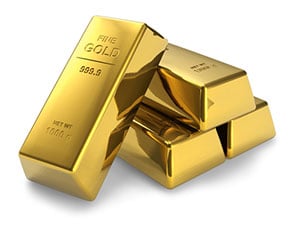 Money Morning Resource Specialist Peter Krauth has an ambitious yet attainable 2017 gold price prediction.
Krauth, a 20-year veteran of the resource market, believes the price of gold could break out from its current lows, surging as much as 22% to $1,400 per ounce by the second half of 2017.
"The odds are strong that we've seen the bottom for the correction," Krauth said.
Krauth said he sees three catalysts carrying gold prices to new highs.
But before we talk about his gold price prediction, let's first look at a few reasons why gold prices have been struggling recently. Before we can analyze the long-term outlook for gold, it's important to analyze what has been moving prices in the near term.
We'll also share with investors why some of the headwinds currently affecting gold prices are only temporary issues…
Why Gold Prices Have Falling Since July
When the U.S. Federal Reserve raised its federal funds rate by 0.25% on Dec. 14, the price of gold took an immediate hit. Nearly two hours after the Fed's decision, the price of gold fell $19 from $1,161 an ounce to $1,142, according to Krauth.
But the markets were mostly pricing in the Fed's rate decision. There was an over 90% chance of a rate hike in December, according to the CME Group's FedWatch tool. Since the markets weren't surprised, there was a pullback in gold prices. Compare that to last December's rate hike, where the markets were only pricing in a 50% chance of rate increase as of November 2015, according to Fortune, who used data from FedWatch. The S&P 500 went on to correct about 10% between January and mid-February. Meanwhile, gold prices rose 15% during the same time period.
One of the biggest challenges for gold right now is the rising dollar. Since gold is priced in dollars, it takes fewer dollars to buy the same amount of gold. Over the short term, the Fed's decision will continue to cause the dollar to appreciate. This will fuel the current dollar rally caused by Donald Trump's election victory, which has sent the U.S. Dollar Index up nearly 5% since Nov. 8.
Since gold directly competes with the dollar, this has helped cause a sharp downturn in gold prices since July.
In fact, gold is currently trading nearly 20% lower – at $1,135 – than its summer high of $1,355.
But investors should only expect the appreciating dollar to affect gold in the short term. Krauth said there have been periods where the dollar and interest rates have gone up and they have done "nothing to hurt the precious metal."
"If you look in late 1970s, interest rates went crazy because the Fed was trying to crush inflation," Krauth said. "Rates went up to 14… 15… 16%. That also marked the beginning of the gold and silver bull market."
Lastly, the strong dollar isn't the only thing bothering gold investors right now. Since Trump's victory, Krauth said bonds have "sold off in a big way," which is causing yields to soar. Since Nov. 8, the 10-year U.S. Treasury bond yield has risen 0.69 percentage points from 1.86% to 2.55% as of Dec. 19.
Like the dollar, higher bond yields also compete with gold, which pays no interest, Krauth said.
Despite the current headwinds pressuring gold prices, Money Morning believes these are only temporary roadblocks.
Like we mentioned earlier, gold prices could rise 22% by the second half of 2017. That's because there are three catalysts supporting a future gold bull market…
3 Catalysts Supporting Our 2017 Gold Price Prediction