In my last update, I talked about gold's reaction to the Fed rate hike. The rate hike (though nearly unanimously expected) caused the dollar to rally, thereby weighing on gold.
That led to even further negative sentiment, pulling gold down a further $30 per ounce from $1,160 to the $1,130 range. The price of gold today is up slightly 0.27%, but it is still trading near $1,132.
In the past week, gold prices tested the $1,126 to $1,129 range at least five times and bounced back each time.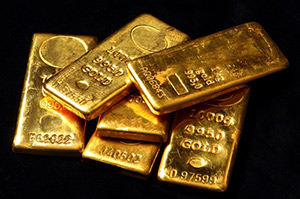 It's very possible that sentiment has now become sufficiently negative. Many who bought in at the summer highs have either become distraught or have already sold.
Meanwhile, the U.S. markets have powered higher, along with oil and the dollar. That's sucked away plenty of hot money from the gold trade. But some of these sectors have become so overbought, they could soon be facing a sharp reversal.
Don't Miss: A Coming Bull Run Could Push Gold Prices to $5,236 an Ounce
That would almost certainly prompt investors to turn to the ultimate safe haven: gold. Here's how gold prices have been trending and where I see them heading from here...
Price of Gold Today Rebounds Slightly
The price of gold ended the previous trading week with a bout of strength, despite some outsized volatility. It opened on Friday, Dec. 16, at $1,133, but it soon sold off to $1,128 by 11:00 a.m. It would rebound all the way to $1,139 by noon. From there, it pulled back to end the week at $1,135.
Strength returned on Monday. In overnight trading, gold had already run up, then opened at $1,139 by 8:00 a.m. That was mostly maintained, with gold closing only a dollar lower at $1.138.
But Tuesday brought on a serious bout of weakness as the U.S. Dollar Index (DXY) ran up to 103.65 intraday, a level not seen since late 2002. That tanked gold, which opened at $1,129 and bottomed at $1,127 by 10:00 a.m. It recouped slightly to close the day at $1,132.
Wednesday saw a stronger open, but that fizzled. Gold started out at $1,135 but by late morning sold off somewhat, then eventually closed at $1,131.
That then bled into Thursday, as gold opened for NY trading at $1,128, before hitting $1,130 by early afternoon.
The price of gold today is mostly flat, with the precious metal maintaining the $1,132 level in morning trading.
Now that we've looked at how the price of gold today is trending, here's where I see gold heading from here...
Where Gold Prices Are Headed in 2017
Join the conversation. Click here to jump to comments…
About the Author
Peter Krauth is the Resource Specialist for Money Map Press and has contributed some of the most popular and highly regarded investing articles on Money Morning. Peter is headquartered in resource-rich Canada, but he travels around the world to dig up the very best profit opportunity, whether it's in gold, silver, oil, coal, or even potash.