Gold price news this past week has mostly revolved around the White House as we gradually move into the Trump administration's tenure.
The precious metal retraced slightly in the week following Trump's inauguration. But since then, the price of gold has risen 3.8%. As of 12:05 p.m., the gold price today (Friday, Feb. 10) trades at $1,236 per ounce.
January alone was even more impressive, with the gold price gaining 4.9% that month. I'd caution anyone to expect that pace of gain to continue through the rest of this year. But the common saying is "as goes January, so goes the year." And January clearly marked the start of a long-term rally in 2017.
On the sentiment side, we have more encouraging news. The World Gold Council just reported that gold-backed ETFs increased their holdings by 1% last month. And one of the world's greatest investors moved back into gold in late December and January, just as gold prices bottomed.
This investor has long held huge influence over the gold market, and his moves could have a big influence on gold prices in 2017.
First, here's why gold is enjoying another weekly gain...
Gold Price News: Futures on Track for a 1.3% Gain This Week
After ending the previous trading week on a bullish note, the gold price continued rallying on Monday, Feb. 6. It opened at $1,228 then settled higher at $1,235 an ounce. That marked a 1.2% gain from the Friday, Feb. 3, close of $1,220.
On Tuesday, gold prices started to consolidate after the two previous strong daily gains. Gold tumbled 1.1% lower from the last closing price to settle at $1,233 on the day.
Don't Miss: For only the third time in 20 years, a metal more rare and more exotic than gold is about to make stock market history. And it's poised to make early investors a lot of money. Get the full story.
But the metal saw revived buying action on Wednesday. Prices opened higher at $1,239 and closed at $1,241 for a 0.6% gain.
Then on Thursday, around 10:00 a.m., the price of gold dropped from $1,244 to $1,234 within minutes as the U.S. Dollar Index shot up from 100.20 to 100.57.
Here's how that looked...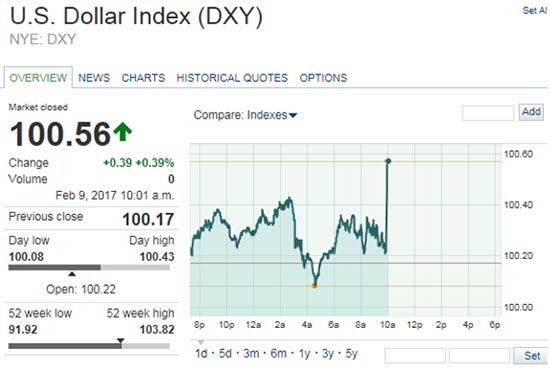 As the dollar gained throughout the day, the gold price remained weak. It eventually closed at $1,237 for a 0.3% loss on the day.
As of 12:05 p.m., the price of gold today (Friday, Feb. 10) is down 0.1% and trading at $1,236. Despite the two straight days of losses, gold is still on track for a weekly gain of 1.3%.
A second consecutive weekly gain for the gold price is a healthy indicator of a long-term rally. But I've also identified three fundamental indicators that point to higher prices in 2017.
Here are those three indicators - one of which involves one of the most famous investors ever...
3 Signs That Support Our Bullish 2017 Gold Price Prediction
Join the conversation. Click here to jump to comments…
About the Author
Peter Krauth is the Resource Specialist for Money Map Press and has contributed some of the most popular and highly regarded investing articles on Money Morning. Peter is headquartered in resource-rich Canada, but he travels around the world to dig up the very best profit opportunity, whether it's in gold, silver, oil, coal, or even potash.