The big silver price news of 2017 so far has been its surprising outperformance of gold.
After futures hit a low of $15.76 on Dec. 23, 2016, silver prices have shot higher, recently reaching $17.93. That's a gain of 13.8%. Gold prices, on the other hand, have only climbed 8.8% over the same period.
And in the month of January alone, the price of silver was up 6.5%. That again handily beat gold's 4.7% return.
I've been saying that silver is looking good technically and is the better bargain of the two metals. With some luck, the outperformance we've seen of late will continue going forward.
Don't Miss: An incredibly rare gold anomaly is shaping up in the markets as we speak -- one that has occurred ONLY twice in the past 20 years. And it's about to happen again. Details here...
Silver's technical setup is very favorable from several perspectives. We'll explore how two of the most important technical indicators - the 200-day moving average and gold/silver ratio - support our bullish silver price target by the end of 2017.
But first, let's look at how it's done over the past trading week...
The Biggest Silver Price News Last Week (Feb. 6 - Feb. 10)
For the most part, silver prices are coming off a strong week.
On Monday, Feb. 6, silver opened higher at $17.61. From there, it just kept climbing to reach $17.71 by the close. That marked a 1.3% gain from the $17.48 settlement on Friday, Feb. 3.
The price of silver saw wild swings on Tuesday, dropping to $17.56 in pre-market trading then bouncing back to open at $17.63. From there, it rallied to peak at $17.75 for the day. It eventually settled at $17.67 for a small 0.2% loss from the previous close.
Wednesday saw renewed strength, with silver opening higher at $17.76. It retreated $0.01 to $17.75 by the close, but the silver price still logged a 0.5% gain on the day.
On Thursday, Feb. 9, the price of silver opened with choppy trading. It started at $17.74, quickly peaking at $17.80 by 9:00 a.m., and fell back down to $17.64. That "negative shock" was undoubtedly triggered by a sudden surge in the U.S. dollar around 10:00 a.m., shown in this chart here...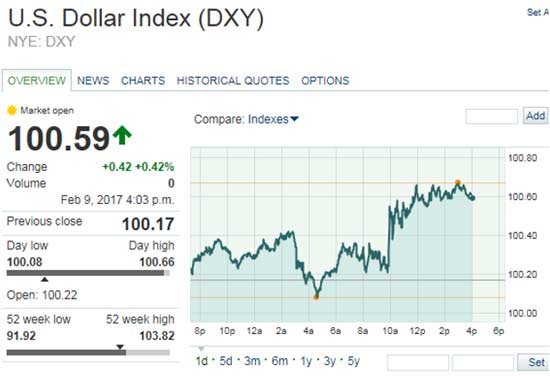 By 1:00 p.m., silver prices had recovered slightly to $17.71, but eventually closed 0.8% lower at $17.61.
Editor's Note: This Silver Price News Won't Prevent a Bull Run in 2017
Then on Friday, after opening slightly lower at $17.58, silver surged as the dollar retreated. While the dollar fell to 100.60 by midday, the price of silver jumped to $17.97. The metal closed at $17.93 for a 1.8% gain. With that, the silver price posted a weekly rise of 2.6%.
Despite any future movements in the dollar, we're bullish on silver prices in 2017. That's because the 200-day moving average and gold/silver ratio have been acting in a way that points to a continued rally this year.
Here's just how high our 2017 silver price target is...
Our 2017 Silver Price Prediction
Join the conversation. Click here to jump to comments…
About the Author
Peter Krauth is the Resource Specialist for Money Map Press and has contributed some of the most popular and highly regarded investing articles on Money Morning. Peter is headquartered in resource-rich Canada, but he travels around the world to dig up the very best profit opportunity, whether it's in gold, silver, oil, coal, or even potash.