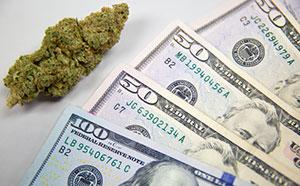 The marijuana industry in North America is projected to skyrocket from $6.7 billion in sales from 2016 to over $20 billion by 2020.
That's an increase of nearly 200% in just four years.
And because this is one of the best long-term growth industries for retail investors, we provide Money Morning readers the top marijuana stocks to watch each week.
The first pot stock on our radar for the week of Feb. 27 is Newgen Concepts Inc. (OTCMKTS: VPOR).
Newgen's Easy Grinder (a device used to make smoking cannabis easier) combines style and functionality.
As you can see in the video below, the Easy Grinder has an unveiling appeal similar to a new Apple Inc. (Nasdaq: AAPL) product.
And according to Newgen Concepts, the consumer response for the initial product run of Easy Grinder has been overwhelming...
In its initial run, the company planned to produce 20,000 units and generate $1 million in sales. But according to MMJReporter.com, the product is already sold out.
Newgen Concepts created this high demand through a few key marketing strategies.
Special Report: Cannabis Is the Gold Rush of the 21st Century - 30 Stocks to Invest in Now
The first marketing strategy was the creation of its video, showing the product being used. The company released the video on Feb. 14, and it has over 32,000 views as of Feb. 27.
The second marketing strategy was to promote the Easy Grinder at trade shows.
The most recent trade show Newgen attended was the Champs Trade Show in Las Vegas. The Champs Trade Show calls itself the premier counterculture B2B expo.
Newgen reportedly accepted retail pre-orders for the Easy Grinder at Champs, as well as the other trade shows it attended.
While the demand for Easy Grinder is impressive, Newgen is not the only marijuana stock on our radar this week...
That's because this next pot stock to watch could climb nearly 170% in the next year after a recent pullback in its stock price...
One of the Top Marijuana Stocks to Watch Now