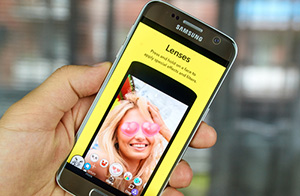 Where to Buy Snapchat Stock: Investors can buy Snapchat stock on the New York Stock Exchange (NYSE) through any trading account once SNAP stock hits the market this morning (Thursday).
Snapchat is expected to be priced around $17 per share, and it will trade under Snap Inc. (NYSE: SNAP).
We know that our readers have been anxiously awaiting the Snapchat IPO date.
But before investing in Snapchat stock based on FOMO (fear of missing out), here are two things you need to know...
Snapchat Isn't Profitable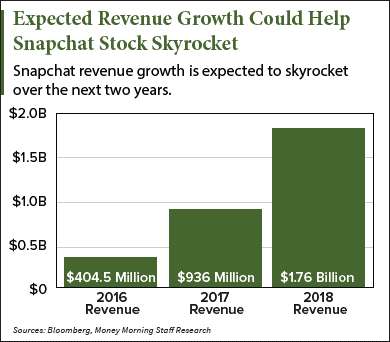 Investors are so excited to invest in Snapchat because of its rapid revenue growth.
In 2015, Snapchat generated $58.7 million in revenue. In 2016, that skyrocketed to $404.5 million.
That's a 589.09% increase in just one year, and revenue is expected to keep climbing...
For this year, Snapchat could generate between $936 million and $1 billion in revenue.
By 2018, Snapchat could generate close to $2 billion.
However, Snapchat still isn't profitable...
In 2016, Snapchat recorded net losses of $514.6 million.
And in its IPO filing, Snapchat said it may never be profitable.
That's enough of a reason not to invest in Snapchat stock on the IPO date.
But the company also had another red flag in its IPO filing...
Snapchat Shareholders Can't Vote
In an unprecedented move, retail investors will not receive voting rights with their Snapchat shares.
This is to prevent activist investors from trying to pressure CEO Evan Spiegel into sacrificing long-term goals for short-term profit.
However, this means Snapchat shareholders can't approve of acquisition offers. It also means shareholders are stuck with Spiegel as CEO, whether he does a good job or not.
So today, this how our readers should play the Snapchat IPO...
Skip the Snapchat IPO Date