Readers have been asking us for tips on how to manage risk thanks to the volatility of the markets in 2017. Here are five ways to manage risk:
Buy options to hedge your bets
Reduce your exposure
Rebalance your portfolio
Invest in unstoppable trends
Consider an inverse ETF when the markets pull back
Options can be associated with high risk, but they were actually designed for risk management. They are like an insurance policy you can buy to protect your investments. For a full understanding of options, check out our free, comprehensive options guide.
Another strategy to reduce the impact of a market pullback is selling assets that are high risk or underperforming.
Special Report: Cannabis Is the Gold Rush of the 21st Century – 30 Stocks to Invest in Now
This does two things…
First, it reduces your risk of losing large amounts of portfolio value. Second, it creates a cash reserve for you to buy quality stocks (you can see our full list of stocks to buy for March 2017, right here) at a discount when the market pulls back.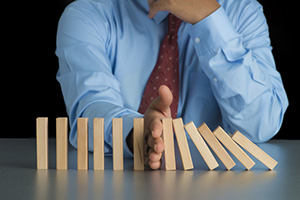 The third strategy for risk management is setting an investment structure and rebalancing your portfolio periodically. This will make sure you are not exposed to too much or too little risk at any given time.
Money Morning recommends an investment structure of 50/40/10. This means that 50% of your portfolio is invested in well-known and stable companies, which protects the core value of your investment portfolio. The next component is high-quality global growth stocks to grow the value of your portfolio. This section of your portfolio should be about 40%. The last component of your portfolio should include small companies that are higher risk but have the potential to increase in price rapidly. Those should make up only 10% of your portfolio since these investments are speculative.
While rebalancing your portfolio is a sound strategy, it's possible to take this too far. Consider rebalancing only once a quarter. This will keep you from micromanaging your portfolio and allow you to rebalance before your investments get way off target.
The fourth risk-management strategy is to invest in stocks in what Money Morning Chief Investment Strategist Keith Fitz-Gerald calls "Unstoppable Trends."
Things like technology, health, energy, scarcity, demographics, and war will not disappear anytime soon. That makes them great industries to invest in. You can see Fitz-Gerald's full explanation of the Unstoppable Trends here.
The last strategy for managing risk is to invest in an inverse ETF when you think the market is going to fall. This means that as the market drops, the ETF would rise in value. The ETF that Money Morning Capital Wave Strategist Shah Gilani recommends is ProShares Short S&P 500 (NYSE Arca: SH).
Note that this is a short-term strategy. Getting into SH when the market starts to dip will help you counteract the losses incurred in other areas of your portfolio. If you hold this ETF as the stock market rises, you will lose your gains.
Investing in falling markets can be unsettling. To help, we put together a guide for investing in a bear market. This free guide is available here.
Follow Money Morning on Facebook and Twitter.