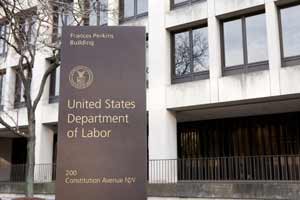 On Feb. 3, President Donald Trump signed an executive order that directed the Department of Labor (DOL) to do a cost-benefit analysis of the fiduciary rule, leaving both financial firms and retirees asking, "Will the fiduciary rule be delayed?"
Originally, the rule was supposed to go into effect on April 10 -- just over a month away.
But before that happens, the Trump administration wants to know:
Whether the rule has harmed or is likely to harm investors due to its provisions
Which ways it has resulted in disruptions within the retirement service industry that may also affect investors or retirees
Whether it is likely to cause an increase in litigation and prices for retirement services
To that end, the DOL kicked off its investigative process last Wednesday, when the Office of Management and Budget (OMB) released its review of the proposed delay on Feb. 28.
Now there's a new timeline in play, leaving retirement investors and financial firms in limbo as to when the fiduciary rule will go into effect.
Here's a look at the timeline and our best prediction for how this will all play out...
The Latest Fiduciary Rule Delay Timeline
The OMB's Feb. 28 conclusions prompted the DOL to recommend a 60-day delay.
Before the DOL's delay can go into effect, legally there must first be a 15-day comment period in which individuals can submit written arguments regarding whether there should be a delay. (In layman's terms, this means the DOL can expect a lot of angry financial firms to be submitting comments about how the fiduciary rule will lose them lots of money.)
After the 15 days, the proposed delay will be sent back to the OMB for review, which Money Morning noted in the past can take anywhere from 10 to 14 days. Then, following the OMB's review, the DOL will have to publish its 60-day delay in the Federal Register, which would in turn be formally adopted into law.
Confused? Have a look at our chart: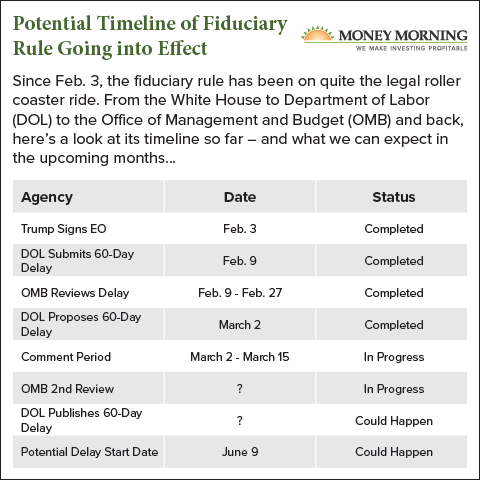 If the proposed delay were to go into effect, it would make the new compliance date -- the date when financial institutions and advisors must begin complying with the fiduciary rule -- June 9, as opposed to April 10 (a 60-day delay).
And it's important to note that unless the rule is totally scraped, advisors and firms who deal with retirement will have to be 100% compliant with the fiduciary rule by  Jan. 1, 2018, regardless of these up-front delays, because that's the date that's long been set for full compliance.
Can We Count on a Delay?
[mmpazkzone name="in-story" network="9794" site="307044" id="137008" type="4"]
Simply put, we don't know if a delay will happen despite the recent 60-day delay proposal by the DOL.
You see, the time it takes to complete each step can vary, and if you look closely at your calendar, you will note that the April 10 start date is now less than 40 days away. This gives the DOL a very short window to complete all the steps noted above to make a delay happen.
Until the DOL issues a final rule saying the fiduciary rule is indeed delayed, retirees can assume the April 10 date to still be a go.
That means retirees will have to be ready for some major industry changes that will affect their savings...
What the Fiduciary Rule Will Cost Retirees
According to Money Morning Capital Wave Strategist Shah Gilani, the way the fiduciary rule is currently written is expected to cost the retirement industry about $2.4 billion per year due to the fees brokers will lose out on when they shift to the "best interest" standard.
Brokers will begin charging their clients a "wrap fee" -- that is, when brokers charge clients based on a percentage of their assets. This poses a problem for the average retiree: What if you have a small retirement account and can't afford these wrap fees? The answer is you might get dropped by your broker.
And when Wall Street stands to lose money, it'll likely do what it always does -- pass down those expenses to retirees...
Economist Incorporated noted in its summer 2016 issues that the fiduciary rule's cost to investors would be over "$5.6 billion a year."
"I'm all for short, transparent, simple rules," said Gilani. "But I'll quickly become a detractor if the new president makes deregulation about making money for Wall Street as opposed to protecting and fulfilling his promises to hard-working Americans desperately in need of a promising path towards a good and bountiful retirement."
More on Retirement: 401(k)s will be driving the markets in the near term, but there's another retirement investment our Chief Investment Strategist Keith Fitz-Gerald wants our Members to know about. It's one of his favorites, a kind of "desert island fund" he'd buy if he had to park his money in one place, "retire" from civilization for 20 years, and come back to a pile of money. Click here to learn more...
To learn more about the DOL fiduciary rule, follow us at @moneymorning or on Facebook.