I'm detecting a pattern for the price of gold in 2017. When there's an interest rate hike, there's a weekly surge in gold prices.
U.S. Federal Reserve Chair Janet Yellen fulfilled the worst-kept secret in the world this week and instituted her third rate hike. Now, U.S. interest rates stand in the 0.75% to 1.00% range.
And what happened to gold prices? They leaped higher, just like they did after the last two rate hikes.
Traders and investors stepped up with both feet, "buying the news" after "selling the rumor."  This was in line with what I said we should expect last week, as I thought the gold price correction had mostly run its course.
Editor's Note: For only the third time in 20 years, a metal more rare and more exotic than gold is about to make stock market history. And it's poised to make early investors a lot of money. Get the full story.
Gold's bounce back was actually quite impressive. But now we need to watch what happens to the precious metal in the next few days as the news starts to be digested by the market.
I think the gains over the last few days since the rate hike will hold and build higher, with the gold price rising 14% by the end of 2017.
We'll first analyze the price action of the past week, then look to two current political events that could influence prices in the coming months...
How the Interest Rate Hike Pushed Gold 2.1% Higher This Week
You can see from the four days leading up to the Fed rate hike that the $1,200 level was acting as a floor, as I had expected.
I think the gains over the last few days since the rate hike will hold and build higher, with the gold price rising 14% by the end of 2017.
After closing on Friday, March 10, at $1,204, gold prices kicked off this week rising to $1,211. But sellers quickly took back control on Monday as the U.S. dollar bounced higher and dragged gold lower. The price of gold ended the day at $1,204 for no gain.
It was ongoing weakness on Tuesday, March 14, which was the first day of the FOMC meeting. The gold price opened at $1,204 and traded flat for most of the day before falling near the close. It settled 0.4% lower at $1,199.
Then on Wednesday, the price of gold surged higher after the 2 p.m. announcement that interest rates were raised. It closed at $1,220 and logged a 1.8% gain on the day.
If you've been long on gold - like the Money Morning members who've been following my updates on the price of gold in 2017 - then Wednesday's gold price action was a thing of beauty...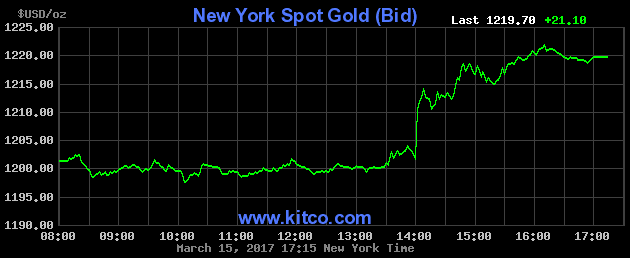 On Thursday, March 16, gold prices opened higher at $1,227. Despite an afternoon bounce in the dollar, gold still managed to settle at $1,225.50 for a 0.5% gain.
And the gold price today (Friday, March 17) is continuing those gains. As of 9:25 a.m., it's up 0.2% to $1,229. That puts gold on track for a weekly gain of 2.1%.
Remember that the jump in gold's price this past week was on the heels of a rate hike. That's supposed to be a headwind, and still gold moved higher, which is very bullish.
Of course, there was likely some "sell the rumor, buy the news" action, but still gold's been behaving well.
This rally in the face of rising rates could be indirectly attributed to these two ongoing political events that could help lift prices 14% by the end of the year...
2 Political Events That Could Raise the Price of Gold in 2017 by 14%
[mmpazkzone name="end-story-hostage" network="9794" site="307044" id="138536" type="4"]
The first event is in India, where the federal government's attempt to recycle gold sitting around in temples and homes has failed miserably. An effort that lasted 16 months so far has produced just seven tonnes of gold, yet estimates of gold held privately in India run over 20,000 tonnes.
The idea was to have individuals and temples deposit their gold at banks, which would pay interest and redeem in cash while the gold would be sold to jewelers.
But India's interest rates are too low to justify the efforts and risk. Most of the country's banks were unprepared and, in many instances, didn't even know how to handle the request.
The bottom line is that the citizens of India love their gold and would rather hold it than give it to their government. That could be a boon for global gold prices since there will be less gold on the open market, which would increase demand.
The second event is in the U.S. state of Idaho, which recently voted to eliminate income tax on precious metals. Interestingly, the vote could be an early step to paving the way to reinstate gold and silver as legal tender. Arizona's Senate Finance and Rules Committee is looking at legislation that would define gold and silver as legal tender.
Like in Idaho, Arizona's bill would exempt precious metals from capital taxes at the state level. Lower taxes on gold could incentivize citizens to buy more gold, which would lift the price of gold.
All things considered, I see gold prices reaching $1,240 next and then taking out the 200-day moving average of $1,260.
Beyond that, I expect gold to eventually rise to $1,400 by the end of 2017. That would mark a 14% gain from today's gold price of $1,229.
Editor's Note: A door has opened for an ultra-rare but powerful anomaly in the stock market... It involves a precious metal, one that's considered exceedingly more rare than gold. Get all the details.