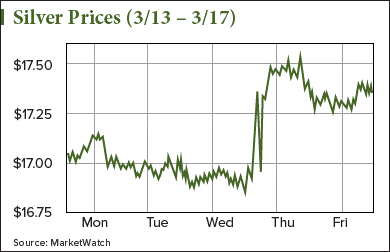 In today's biggest silver investment news (Friday, March 17), the price of silver is on track for its best weekly gain since early February.
Silver prices are currently up 0.1% to $17.36. Although today's gains are meager, the metal has rallied 2.6% since Monday, March 13. That puts the silver price on track for its biggest weekly gain since the week ended Feb. 10.
Despite this week's silver price rally, the metal still hovers below its 52-week mean of $18.35. That means this is a great time to buy silver for long-term gains.
Money Morning Resource Specialist Peter Krauth believes that silver prices could soar 38.2% by the end of 2017. And he says it all depends on one silver investment news story developing in the silver market's most powerful country.
First, here's why the price of silver is posting big gains this week…
Why Silver Prices Are Surging This Week
Silver's big 2.6% gain this week comes on the heels of the U.S. Federal Reserve interest rate hike.
On Wednesday, March 15, the second FOMC meeting of 2017 concluded with Janet Yellen announcing the first rate hike of the year. This puts the federal funds rate in the 0.75%-1% range and marks the third rate hike in less than two years.
Although silver prices didn't react to the rate hike right away, they surged overnight. At the opening bell on Thursday, prices were up 2.9% and trading at $17.41.
Since higher interest rates typically lift the value of the dollar, rate hikes are usually bad silver investment news. Silver is priced in the dollar, so any rise in the dollar's value makes dollar-denominated commodities like silver more expensive to people using a different currency. That reduces demand and lowers the price of silver.
But Yellen's post-meeting comments about there only being two more rate hikes in 2017 were less hawkish than expected. This dragged the U.S. Dollar Index (DXY) below the important 101-basis-point mark, which boosted silver prices.
While this news provided an unexpected bump, Krauth has been following another story that could have an incredibly bullish impact on silver prices in 2017. It has to do with one Asian country that has the largest influence on the silver market.
In fact, the controversial news story is so important that Krauth predicts it could push prices 38.2% higher in 2017.
Here's why this ongoing development will have such a massive impact on silver prices…
The Silver Investment News That Could Send Prices Up 38.2% This Year