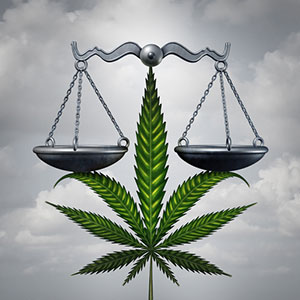 At Money Morning, our mission is to make investing profitable.
And with marijuana sales in North America expected to soar 198% from $6.7 billion in 2016 to over $20 billion in 2020, investing in marijuana stocks is the biggest potential profit opportunity on the market today.
That's why each Monday, we send the top marijuana stocks to watch directly to our readers' emails in real time through our free Profit Alert service.
Finding the news that moves pot stock prices isn't easy, and we want to save you time.
The mainstream media will cover cannabis laws and speculate on how the Trump administration will regulate marijuana. But what you won't find is information about marijuana companies producing new products, signing partnerships, and growing their customer base.
That's because investing in marijuana stocks right now is speculative.
Most pot stocks trade on over-the-counter markets that aren't regulated like the New York Stock Exchange (NYSE) and Nasdaq are. Also, most marijuana stocks are penny stocks, which are notoriously volatile.
NEW: Plot your course to a 7-figure weed windfall with the top pot stocks from every ecosystem – growers, edibles, dispensaries, and more. Read more…
But because more states are legalizing marijuana, the industry will become safer to invest in over time. There are already 28 states with some form of marijuana legalization, which means it's a matter of if and not when medical marijuana is legalized in every U.S. state.
After that, full recreational marijuana legalization won't be far behind.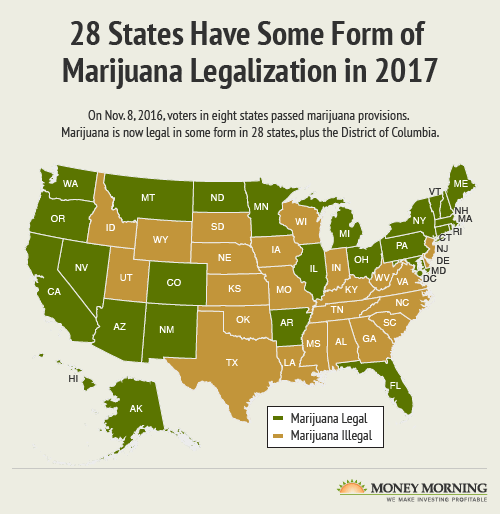 This week, the top marijuana stock we're watching is FBEC Worldwide Inc. (OTCKMTS: FBEC).
That's because FBEC has completed the package design for its product line, Healthy Hemp Energy Shot.
According to MMJReporter.com, FBEC is partnering with NVE Pharmaceuticals to produce two-ounce energy shots filled with therapeutic hemp juice. Partnering with NVE will reportedly increase production as well as reduce the cost per bottle for FBEC by as much as 40%.
And while the hemp energy market is still in its infancy, sales in the energy drink market as a whole are skyrocketing.
U.S. energy drink beverage sales were $8.1 billion in 2011, according to Statista. Those sales climbed 66% to $13.5 billion in 2015.
While that's impressive, there's an even bigger marijuana stock story out there that we had to make our readers aware of.
A small company based out of a town with a little over 100,000 residents is creating a drink in an industry seven times larger than the energy drink industry.
This industry reportedly generates over $100 billion in U.S. sales each year.
Here's everything you need to know about the tiny company that's jumping into a $100 billion market.
Add This Marijuana Stock to Your Watch List Now