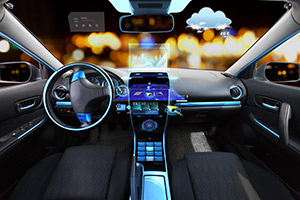 Our running list of the best stocks to buy now just got five new additions. Our round-up is heavy on tech this month - because that's where the money is right now.
The Nasdaq is up 9.22% in 2017. That's more than double the 4.57% return of the Dow Jones in the same time period. It's logged 21 record closes this year and hit another intraday high on April 5.
FANG stocks like Amazon.com Inc. (Nasdaq: AMZN) and Alphabet Inc. (Nasdaq: GOOGL) may grab a lot of attention. After all, they've played a big role in the Nasdaq's outperformance this year.
But the picks on our list of the best stocks to buy now offer a chance to get in before the crowd - and for a lot less money.
Our top stocks to buy include the best profit play in the autonomous vehicles space... a way to cash in on cloud computing, social media, and video streaming all at once... a small-cap digital advertiser taking on the bigger players... and more.
For tech profit opportunities you won't find anywhere else, read on. We add to our stocks to buy list often, so drop by Money Morning again soon.
Best Stocks to Buy Now No. 1: Grab a 30% Gain as Silicon Valley Takes Over Detroit
We're getting closer to fully autonomous vehicles, and advanced driver assistance systems (ADAS) are the building blocks that will get us there. Features designed to reduce driver error like lane-departure warning systems, drowsiness alerts, and automatic emergency braking are being offered in more new vehicles. And there's a lot of money at stake here: The driverless vehicle market could reach $42 billion by 2025.
Money Morning Director of Tech & Venture Capital Research Michael Robinson has been writing about the "connected car" trend for years. He's helped investors make a bundle along the way, too. In April 2015, he told readers to grab shares of Mobileye NV (Nasdaq: MBLY), a maker of sensors and cameras for driverless vehicles. On March 13, 2017, Intel Corp. (Nasdaq: INTC) ponied up $15.3 billion to buy the Israeli company. Investors who acted on Robinson's call are now sitting on 45% gains.
That wasn't his only winner in this space, either. His December 2015 pick, Harman International Industries Inc., was a pioneer in auto tech innovation. It delivered shareholders a 28% single-day gain when its acquisition by Samsung Electronics was announced on Nov. 14, 2016.
Now Robinson is back with another pick. He says it's the best place to put your money in the connected and driverless vehicles space right now. This company makes hundreds of the components that form the backbone of the ADAS tech featured in so many new cars and trucks.
Special Report: Cannabis Is the Gold Rush of the 21st Century - 30 Stocks to Invest in Now. Read more...
As a key tech supplier to the industry, it counts just about every automaker as a customer. To keep its competitive edge, it just shifted a quarter of its R&D staff to focus exclusively on ADAS.
In its last earnings call, the company blew past forecasts for fourth-quarter profits by almost 15%. Year-over-year revenue increased 11% to $4.3 billion.
Robinson says this company is a great investment regardless of whether it becomes an acquisitions target (which is quite possible). He projects a 30% gain in its stock over the next 24 to 28 months, absent a buyout offer. A deal would just be icing on an already profitable cake. Learn more about this top tech stock to buy - and get the ticker - right here...
Best Stocks to Buy Now No. 2: Surging Global Data Traffic Makes These Shares a No-Brainer
Robinson also uncovered a unique way to profit on video streaming, social media, and cloud computing all at once.
Worldwide, we watch a lot of video. YouTube users collectively log a billion hours each day. Netflix viewers watched 116 million hours of content a day in 2016. Facebook? 110 million hours a day spent viewing videos.
That takes up a lot of bandwidth. And that's where data centers come in. All that video has to run through them to be processed. Data centers also provide businesses with cloud solution services.
Global data center traffic is set to grow 33% annually through 2019. And the market for "multi-tenant" data centers worldwide is increasing at a compound annual growth rate of 12%.
The company Robinson recommends operates 145 data centers in 30 metro areas. More than 2,000 corporate clients link into those facilities. Half of sales come from social media titans like Facebook and LinkedIn. Facebook boasts 1.86 billion monthly active users. LinkedIn has 467 million members. All those users ensure increasing traffic and steady business for this firm.
Data centers are plenty profitable, too. Every dollar of revenue for this company translates into roughly $0.57 in adjusted profits. The average client lease is about 12.8 years long. The cost for a customer to move its equipment to another location is $10 billion to $20 billion. Both make for a high customer retention rate.
This stock is up 10.15% so far this year. Investors also benefit from reliable dividend income. Shares currently yield 3.5%, and that dividend has grown 13% annually since 2005. Data center rent hikes and booming global data traffic mean it will likely keep growing, too.
For a solid foundational holding that offers a rising share price along with income, click here to read the full story...
This next pick on our best stocks to buy list is up 183.6% this year, with more gains on the way...