China's trading venues have skyrocketed in number from 300 in 2011 to over 1,000 in 2017, and one of the newest exchanges to open is the China Donkey Exchange.
Editor's Note: For investors looking to play trends in China, this could be the newest form of speculative investment. We have a better way to play the Asian market and will share that in just a bit.
While that might sound odd, donkeys are considered an agricultural commodity in China, according to Bloomberg. The Chinese use donkey skin to treat anemia, and the demand for donkey skin has caused donkey prices to quadruple in the last decade to 8,000 yuan ($1,160 U.S.).
Video
China Imports Donkeys for Medicine
Also, donkeys are hard to breed quickly. Pregnancies can last up to 14 months, which makes replenishing a herd difficult. That means supply can't keep up with demand, raising the price of donkeys.
Because of the demand, state-owned producer Dong-E-E-Jiao Co. launched a donkey exchange in China in December 2016.
Here's how it works…
How the New China Donkey Exchange Operates
If a farmer wants to sell a group of donkeys, he will call the China Donkey Exchange, located in the Shandong province.
The exchange will then send an employee to confirm the donkeys exist and meet the quality standards of the exchange. The exchange helps buyers and sellers settle on a price, then arranges for shipping after the deal is done.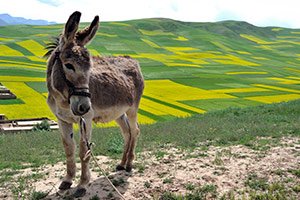 The company told Bloomberg over 370 million yuan worth ($53 million) of donkeys have traded on the exchange since it opened in December 2016.
But those numbers could climb even higher as Dong-E-E-Jiao makes the exchange more accessible. It plans to launch web trading and app trading for the exchange at some point in April. And by the end of 2017, the company expects 1.5 billion yuan ($217 million) worth of trades.
When properly run, exchanges like this can help fuel economic growth, matching buyers with sellers. However, with the rise of exchanges in China, there's also been illegal activity because of what some call "patchy oversight."
Don't Miss: Trump's Secret Weapon Set to Foil China's Master Plan
Unfortunately, some investors learned this lesson the hard way…
Investors Scammed by Chinese Exchanges