Editor's Note: For years now, Bill has been warning his Private Briefing readers that the United States has generally underestimated the threat from North Korea's nuclear and ballistic missile programs. He's made prescient calls on three stocks that have been consistent performers but that should soar once reality "catches up" with American policymakers. Bill is expecting that any day now...
As we've said, it's all but inevitable: Sometime between now and the end of Trump's term, the White House is going to have to grapple with a huge - and potentially deadly -  decision about North Korea and its nuclear weapons program.
As the situation heats up by the day, we're rapidly reaching the point where North Korea goes from worry to real risk.
From the beginning, we've maintained that North Korea's nuclear program is an issue that is much more troublesome than the Pentagon would have us believe - and each new development is proving us right.
Just look at the events of the past week...
Korean Tensions Are Coming to a Boil - Fast
On Wednesday, Chinese President Xi Jinping told Trump in a phone call that Beijing is willing to work with Washington on ending North Korea's nuclear weapons program.
At the same time, on the heels of reports of that conversation, a rumor spread through social media and the bond markets that China was positioning "150,000 troops" along its Yalu River border with North Korea. This may have helped juice bond interest rates a bit, but the rumor was ultimately proven "fake news." On nearly any given day, the Chinese military has as many as 250,000 personnel operating in the region, and Western intelligence agencies reported no evidence that they were mobilizing or edging closer to the North Korean frontier.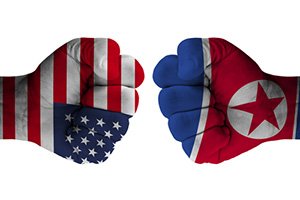 But on other fronts, the news of the day was all too real - particularly Secretary of State Rex Tillerson's sit-down with Russian President Vladimir Putin.
Despite tensions stemming from Washington's assertion that Russia aided and abetted Syrian dictator Bashar al-Assad's chemical attack last month, both men agreed that North Korea must be denuclearized.
On Sunday, the United States declared it will permanently station unmanned missile-capable drones in South Korea in "anticipation" of conflict with Pyongyang.
Also on Sunday, Tillerson suggested that the latest U.S. strike in Syria was meant to send a message to Pyongyang, which has in recent weeks test-launched multiple ballistic missiles. North Korean officials responded by stating that the U.S. action in Syria was "absolutely unpardonable" and claimed the strike proved that its own nuclear weapons were justified to protect the country against Washington's "evermore reckless moves for a war."
Even as all this was unfolding, a U.S. Navy strike group of two destroyers, a guided missile cruiser, and the Nimitz-class aircraft carrier U.S.S. Carl Vinson was steaming toward the Korean Peninsula, where it will likely be joined by two warships of the Japanese Maritime Self-Defense Force.
These events come just days before North Korea celebrates the April 15 "Day of the Sun," the birthday of deceased "Eternal President" Kim Il-sung - current leader Kim Jong-un's grandfather - amid speculation that Pyongyang will mark the occasion by testing missiles or possibly a nuclear device.
Over the last five years, we've been keeping you updated about Pyongyang's ambitions and efforts - and about North Korean leader the younger Kim's escalating combativeness, especially where the United States is concerned.
That's because, taken in toto, there's only one conclusion to reach here: North Korea isn't just an emerging threat to the United States.
It's an outright danger.
You see, this isn't the first, second, or even third time Kim and Co. have threatened to "incinerate America"...
While You Shared Easter Dinner...
Almost exactly a year ago - last Easter, while plenty of us cheered for our kids at egg hunts and gathered for family dinners - North Korea threatened to incinerate America.
Pyongyang released a video - a four-minute clip titled "Last Chance" - that employed CGI to follow an ICBM as it arced through the stratosphere before slamming home in Washington right near the Lincoln Memorial. You can check the video out here, on the YouTube account of the Voice of Korea, North Korea's "external broadcasting service" (read: international propaganda arm).
It's breathless, aggressive stuff. I'll paint you a picture.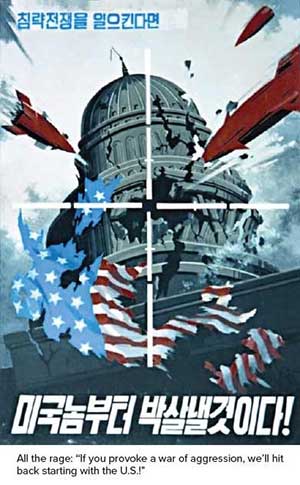 There's the expected mushroom cloud, a shimmering view of the U.S. Capitol dome, and then hellfire that consumes the U.S. flag against a backdrop of cross-marked graves.
"If the American imperialists provoke us a bit, we will not hesitate to slap them with a preemptive nuclear strike," the video's Korean subtitles read. "The United States must choose! It's up to you whether the nation called the United States exists on this planet or not."
An English voiceover warned that the "U.S. imperialists and South Korean traitors" faced the "most absurd and painful destruction of digging their own tombs with their hands."
Pyongyang loves heated anti-American rhetoric, - much of it consisting of promises to hit the U.S. mainland. This isn't a fake "tough guy" persona that North Korea displays to the outside world: It demonstrates the same anti-U.S. militancy at home.
For instance, I've told my Private Briefing readers about the broadcasting conference I attended a few years back, in which a former foreign correspondent for a major news network showed us slides of a propaganda poster that's widely disseminated inside North Korea. You can see here that it's unambiguously aggressive in its message.
It was a sobering presentation. Especially since this poster is apparently quite popular inside the Hermit Kingdom.
We've seen many of these threats - or implicit threats, like the early-February missile test. They almost always come in response to some identifiable "trigger," some event or development that North Korea perceives as threatening its interests, "dignity," or "sovereignty."
Last Easter, it was the massive annual Key Resolve/Foal Eagle joint defensive military exercise between the U.S. and Republic of Korea armed forces. Earlier this month, it was simply the combative talk of President Trump.
And if North Korea were ever to attempt a "real" launch, you'd be able to see the trigger for that, too...
I'm sharing this for a reason.
Several reasons, in fact.
First and foremost, it's always better to be informed - than to be oblivious.
Second, North Korea's actions are going to have clear and identifiable impacts - and clear beneficiaries.
And you need to know about those, too.
These Two Companies Represent a Huge Opportunity
The North Korea nuclear threat and the ongoing mess in the South China Sea are helping fuel a staggering "Asian Arms Race."
IHS Jane's says arms spending in the Asia-Pacific will climb 23% a year to reach $533 billion by 2020. That will put it on par with North America, which now accounts for half of all global defense spending (a share that'll fall to a third by decade's end, says Bloomberg).
This Asian arms race isn't just a spending sprint. As I told my Private Briefing subscribers last year, there's also a technological race, where stealth aircraft, aerial and seagoing drones, detection systems, and missile-interceptor know-how will just keep advancing.
Central to any defensive plans in the region will be Lockheed Martin Corp. (NYSE: LMT), developer of the U.S. Terminal High Altitude Area Defense (THAAD) system - an advanced U.S. missile defense shield that's so effective against current missiles that Beijing is irate about its deployment to South Korea. And a newer version, called THAAD-ER, is expected to be used against the nuclear-tipped hypersonic glide vehicles (HGVs) that China and Russia are developing.
THAAD-ER mates Lockheed's super-radar system with a two-stage interceptor that has the speed and knockout punch that will be needed by HGV interceptors.
One other beneficiary should be Orbital ATK Inc. (NYSE: OA), an aerospace leader that recently successfully tested a 3D-printed hypersonic "scramjet" combustor.
The new glide weapons will spur the need for hypersonic-powered interceptors. And that will stoke the need for hypersonic motors - one of Orbital's specialties.
The recent 20-day test - conducted at NASA Langley Research Center - subjected the test engine to an array of high-temperature hypersonic flight conditions, including one of the longest duration, propulsion-focused wind tunnel tests ever recorded. The result: The unit met or exceeded all test requirements. And the 3D-printing aspect shows that Orbital is a true innovator.
We'll keep watching the North Korea situation - it's especially hot right now - and the opportunities it creates.
Bill's paid-up Private Briefing subscribers get a third "Asian Arms Race" recommendation that's already more than doubled since he first recommended it. There's likely plenty of upside ahead because, like Lockheed and Orbital ATK, this company is playing a critical role in protecting this country from the North Korean threat. Click here to learn how to get the pick, along with all of Bill's other Private Briefing recommendations every day.
Follow Bill on Facebook and Twitter.
Here Are 10 "One-Click" Ways to Earn 10% or Better on Your Money Every Quarter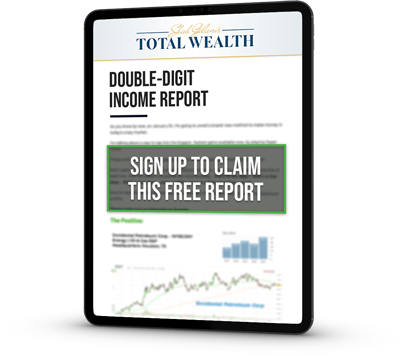 Appreciation is great, but it's possible to get even more out of the shares you own. A lot more: you can easily beat inflation and collect regular income to spare. There are no complicated trades to put on, no high-level options clearances necessary. In fact, you can do this with a couple of mouse clicks – passive income redefined. Click here for the report…
About the Author
Before he moved into the investment-research business in 2005, William (Bill) Patalon III spent 22 years as an award-winning financial reporter, columnist, and editor. Today he is the Executive Editor and Senior Research Analyst for Money Morning at Money Map Press.