With prices expected to continue their rally this year, we're bringing readers one of the best platinum mining stocks to buy right now.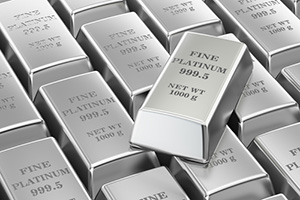 Although they suffered a 7.6% dip in March, platinum prices are still up 8% to $978 per ounce in 2017. That puts the metal in third place behind gold prices and silver prices, which are up 11.2% and 12.6% this year, respectively.
Despite being outperformed by gold and silver, Money Morning Resource Specialist Peter Krauth still expects the platinum price to surge 32.9% to $1,300 in 2017. In fact, his predicted platinum gains beat his 2017 gold price prediction of a 9.3% rise and silver price prediction of a 21.8% climb.
That's why we're so bullish on today's platinum stock recommendation, which could soar as much as 47.8% over the next year…
1 Reason Why Platinum Prices Will Rise 32.9% in 2017
The primary reason the price of platinum will rally this year is the metal's increasing attractiveness as a safe-haven investment.
A safe-haven investment is one whose value typically steadies or rises during stock market volatility. It's called a "safe haven" because investors often use it as a flight to safety when they start to incur losses from stocks.
Similar to silver and gold, platinum's safe-haven qualities make it a good hedge when the Dow Jones or S&P 500 take an unexpected dip. And platinum prices are up 2.7% this month as U.S. conflicts overseas continue to make markets uneasy.
Free Report: How to Buy and Profit from Gold and Silver in 2017
On April 7, the United States' long-held tensions with Syria came to a head when the U.S. launched missiles at a Syrian airfield. The strike was a direct response to Syrian President Assad's chemical attack on April 4 that killed at least 70 Syrian civilians. The United States has also grown more hostile toward North Korea, which has conducted several tests of long-term missiles and made threats of war.
These escalating conflicts have pulled markets lower over the last month. The Dow Jones has fallen 1.7%, while the S&P 500 has dropped 0.9% over the same period.
Regardless of the Syria and North Korea situations, investors have been moving more and more money into precious metals in fears that a stock market crash could come at any moment. That's why gold, platinum, and silver have seen their prices rise 11.2%, 8%, and 12.6% this year, respectively.
As long as investors keep piling into metals for hedging purposes, the price of platinum will climb toward Krauth's $1,300 price target. And our platinum mining stock pick today could give investors a 47.8% profit by April 2018 thanks to platinum's bull run.
Here's the best platinum company to invest in right now…
One of the Best Platinum Mining Stocks to Buy in 2017