As I've said before, buying a drugmaker stock with true billion-dollar "blockbuster" potential is like grabbing a license to print money.
Of course, it's always at least possible to grab these shares on their way up, but that's a little like fixing the barn door after the horses have bolted.
For the biggest possible pharma profits, investors have to look ahead into the firm's "pipeline," its arsenal of yet-to-be-released drugs that's critical to keeping a drug company competitive in the long term.
Today, I've got the perfect "Buy" recommendation for a company that's doing just that…
Why It Pays to Beat the Market on Pharma
Gilead Sciences Inc. (Nasdaq: GILD) is the perfect example of how getting into a stock just before a blockbuster is released can make the difference between a huge windfall and a loss.
Gilead was one of the first companies to develop a one-pill-a-day regimen for HIV/AIDS. It then took this technology and applied it to the hepatitis C virus (HCV).
Before these drugs, an HCV infection meant open-ended medical supervision. For insurance companies, that's an extremely expensive proposition.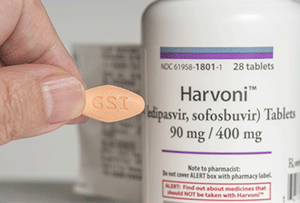 But a 12-week round of treatment with Gilead's Harvoni or Sovaldi costs around $100,000. And the cure rate is in the upper 90% range.
For insurance companies, that's a no-brainer.
Harvoni and Sovaldi have become two of the most successful drugs of all time since their 2013 launch. By now, the two have brought in about $20 billion in revenue for Gilead.
Gilead investors realized tremendous gains from these drugs, better than doubling their money since before Sovaldi's debut.
Now, here's where a strong pipeline can make all the difference…
Investors who bought at or near the top haven't benefitted much from Gilead's strong performance. Instead, they've lost some money as Gilead is off 35% in the past 12 months.
You can see the performance is like night and day, and that gets at the heart of the pipeline's importance.
The share price is off because competitors, including generics, have entered, and Gilead has a thin pipeline. And it hasn't bought another company to boost its pipeline.
For lack of a pipeline, this juggernaut is floundering.
The company I'm going to show you doesn't have that problem. Quite the opposite.
One of the Richest Pipelines I've Ever Seen
Join the conversation. Click here to jump to comments…
About the Author
Michael A. Robinson is one of the top financial analysts working today. His book "Overdrawn: The Bailout of American Savings" was a prescient look at the anatomy of the nation's S&L crisis, long before the word "bailout" became part of our daily lexicon. He's a Pulitzer Prize-nominated writer and reporter, lauded by the Columbia Journalism Review for his aggressive style. His 30-year track record as a leading tech analyst has garnered him rave reviews, too. Today he is the editor of the monthly tech investing newsletter Nova-X Report as well as Radical Technology Profits, where he covers truly radical technologies – ones that have the power to sweep across the globe and change the very fabric of our lives – and profit opportunities they give rise to. He also explores "what's next" in the tech investing world at Strategic Tech Investor.