Editor's Note: It's getting rough out there in the markets, with no shortage of threats to your hard-earned cash. But Bill's going to show you the same thing he showed his paid-up Private Briefing readers – how to spot trouble before it starts eating your returns. Here he is…
My wife, Robin, likes to tease me that I'm a creature of habit.
She's right, of course (as she usually is).
This is especially true with books or movies that I really like. There are a handful of flicks that I've watched 20 times during my life. And there are books that I've read an equal number of times.
One of those "favorite" books is "Baa Baa Black Sheep," the autobiography of U.S. Marine Corps ace Gregory "Pappy" Boyington. Pappy got his nickname (he was also known as "Gramps") because he was commanding a squadron of 20-somethings at the advanced age of 31 – ancient for a combat pilot at the time.
Boyington, who'd also flown for Claire Chennault's American Volunteer Group (AVG), more popularly known as the Flying Tigers, shot down somewhere between 22 and 28 planes (depending on the account), making him a quadruple ace. He spent time as a POW. And he won the Congressional Medal of Honor.
Boyington was flamboyant. And he was controversial. But he was also a difference-maker when America needed such personalities. And he was a guy I wish I'd had the chance to meet.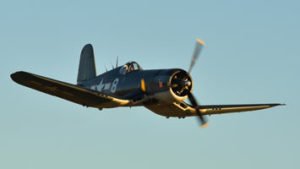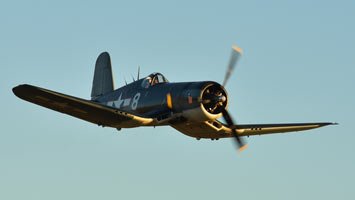 We want to be a "difference-maker" for you.
I was thinking about Boyington this past weekend because of a story I remember him telling in an interview, or in his book, about one of the dogfights he and his "Black Sheep" (VMF-214) fought on one of their missions. Fighter planes – American Corsairs and, most likely, Japanese Zeroes – were wheeling all over the sky.
The No. 1 lesson they told fighter pilots back then was to never forget to keep looking around. And in this dogfight, Boyington said, you almost had to be able to look everywhere all at once – just to survive.
The "cardinal sin" of aerial combat is a miscue known as "letting your head get up and locked" – meaning you're not constantly scanning… you're not trying to spot any and all possible threats. Forget that key rule, and commit that cardinal sin in a dogfight, and you risk getting shot down – "getting flamed," as fighter pilots used to say.
I thought about that story quite a lot this weekend – and for good reason: As investors, we're in a market dogfight right now, with threats zooming and wheeling all around us. More than ever, we need to be hypervigilant. We want to knock off a few victories – winning trades of our own.
And the key to all of that – to surviving and thriving in the freewheeling, rough-and-tumble stock markets of today – is to avoid being flamed because we weren't paying attention.
We're going to help you keep that from happening.
Then we're going to help you get a few victories of your own.
Confidence builders. And wealth builders.
Let me show you what I mean.
The Biggest Threats We Face
If we're honest about what we face now – and conduct a real "threat assessment" – we have a lot of things to watch.
And I'm not just talking about stocks that are at or near record highs.
Let's look at some of the threats we're facing right now – and then come back and talk about what you can do to avoid calamity… and to be opportunistic yourself.
Threat No. 1 – The Trump Rally: The Nasdaq Composite Index is at a record high above 6,000 – and has zoomed more than 17% since the Nov. 8 presidential election. The Dow Jones Industrial Average is up more than 14%. At some point, there will be a correction – indeed, it'll be healthy. But whether it's a correction, or something bigger, and how long it lasts will be partly determined by what triggers it. That makes it something to watch for.
Threat No. 2 – The "Rotation": You see this all the time with the markets – where the current leaders (in a sector, index, asset class, or geographic market) give way to new leaders. U.S. stocks have been the leaders for some time now – especially given the messes we see in markets abroad. Indeed, if you've invested in European stocks (as an asset class) over the past decade, your return has been… zero. But laggards eventually become leaders, making it worth your while to be ahead of the curve. And the time for Europe could be now, says my good friend Shawn Langlois, a columnist for MarketWatch. The last 44 times U.S. stocks outperformed their European brethren by as much as they are now, European stocks went on to outperform U.S. shares for the next 10 years.

At the end of the day, how stocks – and even our economy – fare has as much to do with psychology and emotion as anything else.

Threat No. 3 – The Saga of the Bottom Half: The Great Recession has been over for more than seven years. But there's still a hangover – one that can't be cured with tomato juice and pepper. A brand-new New York Federal Reserve forecast says that, sometime this year, total household debt will reach its previous record peak of $12.68 trillion – a level last seen in third-quarter 2008, during the aforementioned financial morass (and we were almost there at year-end 2016, when debt hit $12.58 trillion). This time around it's not housing that has folks in hock – but rather auto loans and student debt. Doesn't matter, debt is debt – and even though assets are greater now than before, those liabilities are still a drag on the economy. What's really worrisome is that half of all Americans just aren't making the cut. Roughly 50% of Americans won't be able to deal with a major financial emergency. Nearly one in three don't even have $500 they can put their hands on if something bad happens, while about one in five (19%) have nothing at all, concludes a survey by HomeServe USA, a home-repair service. So if the market rolls over – or if there's some sort of economic "shock" to the financial system – those poor folks will contribute to a stumble in U.S. growth.
Join the conversation. Click here to jump to comments…
About the Author
Before he moved into the investment-research business in 2005, William (Bill) Patalon III spent 22 years as an award-winning financial reporter, columnist, and editor. Today he is the Executive Editor and Senior Research Analyst for Money Morning at Money Map Press. With his latest project, Private Briefing, Bill takes you "behind the scenes" of his established investment news website for a closer look at the action. Members get all the expert analysis and exclusive scoops he can't publish... and some of the most valuable picks that turn up in Bill's closed-door sessions with editors and experts.