The first marijuana stock on our watch list this week is one we've been watching since November 2016.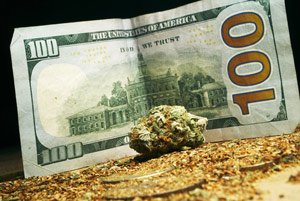 Back on Nov. 28, 2016, we informed members of our free Profit Alerts service when Innovative Industrial Properties Inc. (NYSE: IIPR) went public. IIPR is considered a marijuana REIT and acquires and manages properties that are designed for legal marijuana growers.
And right now, marijuana real estate companies are cashing in on the $6.7 billion marijuana market…
For example, in Portland, Ore., businesses outside of the cannabis industry could rent industrial space for $5 a square foot as of 2016. But according to Bloomberg, marijuana companies pay a premium of $12 to $18 per square foot.
For marijuana companies, renting space is easier than trying to purchase an industrial property to grow marijuana. Marijuana is illegal under federal law, and banks won't provide loans to businesses that are involved in illegal activity.
Video
Marijuana Is Changing Commercial Real Estate
Also, marijuana growers need to find specialized properties that can accommodate their unique needs.
That's where Innovative Industrial offers a solution. Not only will it rent space to thoroughly vetted medical marijuana companies, but the properties it owns also offer the infrastructure needed to grow cannabis.
"We acquire specialized industrial real estate assets that are used for growing medical-use cannabis and operated by state-licensed growers. We focus on properties with sophisticated technology and infrastructure to meet rigorous quality standards for medical-use cannabis," Innovative says on its website.
We're watching IIPR this week because the company announced on May 4 it would purchase a 72,000-square-foot property in Maryland. Innovative Industrial will also rent it out to Holistic Industries LLC, a medical marijuana cultivator.
According to NewCannabisVentures.com, the initial term of the lease will be 16 years, with three options to extend the lease for three additional five-year periods.
For investors, owning shares of IIPR should be viewed as a long-term investment. In Innovative Industrial's 10-K form released on March 23, the company said it was in "various stages" of reviewing potential properties for acquisition.
It currently does not have any finalized deals listed on its website.
However, Compass Point Research estimates shares of IIPR could still net investors market-beating gains over the next 12 months. The investment firm has a one-year price target of $20.50 for IIPR stock.
From the closing price of $16.86 on May 5, that's a potential profit of 21.5%. In comparison, the Dow Jones Industrial Average has only climbed 6.29% so far in 2017.
This is one of the safer ways to play marijuana stocks, as Innovative Industrial is listed on a major exchange and only works with approved medical marijuana companies.
But we also know our readers have been asking us for more information on marijuana penny stocks because of the massive profit opportunities they can offer. We are going to share one marijuana penny stock to watch today.
Penny stock prices are extremely volatile, and most are listed on over-the-counter (OTC) markets. These markets aren't regulated like the Dow or NYSE. So the stock we're about to show you is not a recommendation.
BREAKING: New Legislation Could Turn Tiny Pot Stocks into Millions. Click Here…
Marijuana penny stock investing should be viewed as speculative, and you never want a penny stock to be the largest holding in your portfolio.
Having said that, we are watching one particular penny pot stock this week because of an emerging market: medical tourism. It was estimated over 1.4 million Americans would travel outside the United States for medical care in 2016, valuing the medical tourism market as a multibillion-dollar industry.
And there's a cannabis penny stock that lets you play this billion-dollar trend…
Watch This Marijuana Penny Stock Right Now