The first Snapchat quarterly report was released last night (Wednesday, May 10), and it was far worse than analysts expected. Now, retail investors are suffering huge losses, with SNAP stock down 23% before the open this morning.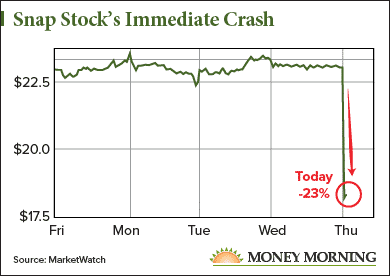 Here at Money Morning, we've recommended avoiding Snap stock since its IPO on March 2.
You see, Wall Street underwriters make millions from new stocks like SNAP by hyping them up to the public, even when they know it won't be a good investment. Since they're the sole distributors of the new shares to investors, they can make exorbitant underwriting fees. The two lead underwriters on the Snap IPO made a combined $46.8 million.
Plus, the underwriters and institutional investors on Wall Street were able to purchase Snap shares at the IPO price of $17. But retail investors had to wait until SNAP stock debuted at $24 to buy in. After shares of Snap Inc. (NYSE: SNAP) dropped 23.2% to $17.67 after Q1 earnings were announced yesterday, retail investors who bought in at the open are looking at losses of 26%. The underwriters are still up 3.9% from the price they bought in at.
Today, we're going to show you why you should never invest in IPOs.
First, here's why the Snapchat Q1 earnings report was so dismal...
Why the Snapchat Quarterly Report Was a Disaster
Snap - the parent company of popular app Snapchat - lost a staggering $2.21 billion last quarter, a loss of $2.31 per share. That widely missed FactSet's estimated loss of $0.21 per share. Even worse, Snap's $2.21 billion hole last quarter is more than 20 times the company's $104.4 million loss in Q1 2016.
The company also came up short on daily active users (DAUs), the most important metric for social media companies. Snap reported that Snapchat saw 166 million global DAUs, below analyst expectations of 167.3 million.
Trending: The Top 7 IPOs to Watch This Month
A big reason the company lost a gigantic $2.21 billion was the Snap IPO itself. Despite being the third-biggest tech IPO since 2012, it forced the firm to pay billions to employees whose stock options vested when the firm went public.
"Buying shares in SNAP is like trying to pick up nickels in front of buses."
In other words, Snap had to pay $2 billion of its own money to employees the day of the Snap IPO. Those payments accounted for $2 billion of the $2.21 billion loss during the first quarter.
But even if you don't account for that one-time IPO-related loss, Snap still lost more money than analysts expected. If you look at earnings before interest, tax, depreciation, and amortization (EBITDA) - which excludes IPO-related costs - Snap still lost $188.2 million in Q1. That was worse than the projected $180.7 million loss.
After the earnings, Money Morning Capital Wave Strategist Shah Gilani said Snapchat will continue to be horrible for investors. He says the messaging app will keep facing fierce competition from Facebook Inc. (Nasdaq: FB), whose market cap is 20 times the size of Snap's and has already started replicating many of Snapchat's most popular features.
"The thought that any sane investor would buy Snapchat is frightening," Shah said. "Buying shares in SNAP is like trying to pick up nickels in front of buses."
We've always seen investing in Snap as a quick way to lose money. New stocks like Snap only benefit the big banks that play a huge role in taking these companies public. Meanwhile, retail investors are left with massive losses because they're not "Wall Street insiders."
Here's why institutional investors make IPOs a dangerous game for retail investors like you and me...
Here's How Greedy Wall Street Banks Make a Killing from IPOs Like Snap
[mmpazkzone name="in-story" network="9794" site="307044" id="137008" type="4"]
Because big banks are able to get in on IPOs early, brand-new stock offerings notoriously rip off retail investors like us.
You see, big Wall Street banks are typically responsible for underwriting IPOs. These underwriters distribute shares of the new public company. You can consider them the middleman between the new company and big IPO buyers like hedge funds and other institutional investors.
The Snap IPO's two biggest underwriters were Morgan Stanley (NYSE: MS) and Goldman Sachs Group Inc. (NYSE: GS). Respectively, the two banks made $25.7 million and $21.1 million in underwriting fees from the deal. One of their duties as the lead underwriters was to appropriately price the Snap IPO, which would accurately establish Snap's value to the public. They eventually priced it at $17 per share, and the IPO raised $3.4 billion.
But as we can now see following the IPO and yesterday's bad earnings, the underwriting banks did not accurately value Snap...
As the underwriters, Goldman and Morgan Stanley knew about Snap's losses and other bad financials and decided to set the IPO price extremely high. That's because they knew setting the price high would net them millions of dollars in underwriting fees. This also allowed the institutional investors to buy shares at a lower price than retail investors. Since retail investors are last in line to buy shares after the hedge funds, they're forced to buy in at the inflated price once the stock is available to the public.
While banks and hedge funds earned millions of dollars, retail investors bought in believing the banks fairly valued the SNAP stock price. Now, retail investors who owned the stock before the Snapchat quarterly earnings are left with a 23% loss.
If you really think a stock is worth your money, you should always wait for the company to release a few quarterly reports. That way you're making it prove it's worth your money.
Although it's clear Snap is extremely unprofitable right now, you'll want to see if it keeps stacking up losses and becoming more unprofitable. The only way to do that is to wait for at least three quarterly earnings reports to come out.
The Bottom Line: The Snapchat quarterly report was easily the worst of the Q1 earnings season. The company's staggering $2.2 billion loss in just three months caused SNAP stock to plunge by more than 23% in after-hours trading. However, we've always said that SNAP is a bad investment, especially since new stocks often leave investors penniless and big underwriting banks richer. Investing in IPOs always leans in Wall Street's favor, which is why we recommend never investing in brand-new stocks that are driven by IPO hype rather than profitability.
Up Next: A completely unique gold play is forming in the markets. And it's so rare that it's only the third time in 20 years that it's happened. If you get in now, you could see a share of upwards of $13 billion in cash windfalls. Read more.
Follow me on Twitter @AlexMcGuire92 and Money Morning on Twitter, Facebook, and LinkedIn.