As of today (May 17), platinum costs $940 per ounce. The metal has rallied 4.3% over the last week, particularly after China announced a $124 billion initiative to build a new "Silk Road" meant to promote global trade across Asia and Europe.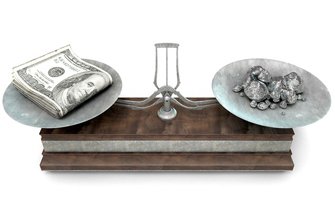 The news has given platinum prices a much-needed rebound. On May 9, they fell to $900.90, which was the lowest settlement since Dec. 28, 2016. Since then, platinum has gained 4.3% and is up 1.2% just today.
Money Morning Resource Specialist Peter Krauth thinks the metal will keep climbing throughout the year. Today, we're going to give you our 2017 platinum price forecast, which includes Krauth's bold new price target for the end of the year.
First, here's more on why prices have been gaining traction lately...
Why Platinum Prices Are Up 4.3% in the Last Week
At a summit in Beijing on Sunday, May 14, Chinese President Xi Jinping announced a pledge of $124 billion to create a globalization project being called the new Silk Road.
Formally called the "One Belt, One Road" initiative, the infrastructure project will involve building massive transport and energy resources across Asia, the Middle East, Europe, and Africa. These resources include roads, bridges, gas pipelines, and power plants, among others.
The platinum price gained 1.2% on Monday as traders reacted to the implications of the announcement. Buyers propped prices up on hopes that the One Belt initiative would boost platinum demand due to the metal's various industrial and construction uses. Investors also bought platinum as a hedge against uncertainty surrounding China's possible effect on globalization, especially in response to President Trump's long-touted "America First" policy.
While China's announcement just lifted prices this week, platinum has been primarily boosted over the last five sessions thanks to a weakening dollar.
Since May 9, the U.S. Dollar Index (DXY) - which measures the dollar against a basket of other currencies - has fallen from 99.54 down to 98.08. Although that may not seem like a big drop, any drop in the dollar below an even level like 99.00 can be very bullish for precious metals.
Metals Alert: The 4 Best Silver Investments to Make in 2017
You see, metals like platinum, gold, and silver often move inversely with the dollar during the short term. That's because those metals are priced in the dollar around the world. When the dollar declines in value against other currencies, it makes dollar-priced commodities like platinum cheaper for international buyers. In turn, this boosts demand for those buyers and ultimately raises prices.
While the falling dollar is short term, Krauth is eyeing two long-term trends that could send platinum prices to our high target this year.
Here's our full platinum price prediction for 2017...
Our Bullish Target for the Price of Platinum in 2017