There are two ways to invest in driverless car stocks at the moment: buy shares in autonomous vehicle makers, or buy shares in companies making the technology automakers have to use in their vehicles.
While the first may seem like a more direct play, the latter will be more profitable. Auto manufacturers, like they do now, will battle each other for customers. Meanwhile, there will only be a handful of companies that car makers trust with the advanced technology to make autonomous vehicles operate safely.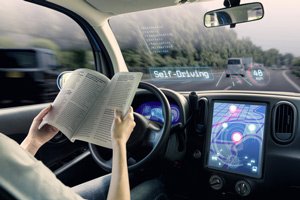 And Money Morning Director of Technology & Venture Capital Research Michael A. Robinson has pinpointed a leading manufacturer in self-driving car technology.
Since he last spoke about this company on March 21, its stock price has already climbed 6.14%. In comparison, the Dow Jones Industrial Average is up just 0.5% during that time.
And that's just the start for this driverless car stock…
"At the time, we considered this storied auto-supply firm a great stock to own because it's looking at a lot of growth in an unstoppable tech trend. And I went on to predict that we'd see 30% gains over the next 24 to 28 months. We're already well on our way," Robinson said on May 22.
Energy Breakthrough: One gallon of this new "crystal fuel" could get you from New York to L.A. and back… seven times! Read more…
This investment gives tech investors a ground-floor window to watch the driverless vehicle mega-trend take shape.
Video
The Future of Self-Driving Cars
"And it will be a very profitable view for years and years to come," Robinson said.
According to a 2015 Boston Consulting Group report, the autonomous car market could be worth $42 billion by 2025. And this stock is perfectly positioned to profit from this industry's massive growth.
Here's how Money Morning readers can profit before this self-driving car stock provides its shareholders with market-beating gains…
How to Cash In on the Future $42 Billion Driverless Car Market