The rapidly rising and falling Bitcoin prices we've seen so far this year might seem alarming to those unfamiliar with the digital currency.
But to those who have been closely involved with Bitcoin over the past few years, the recent steep climb (213% in nine weeks) and sudden plunge (31.6% in three days) is well-worn ground.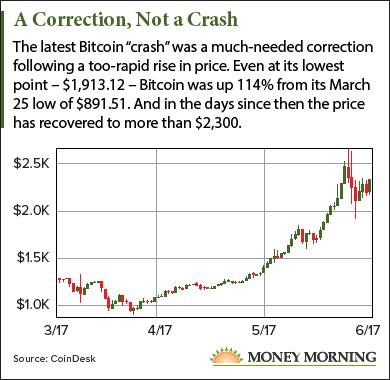 In fact, many longtime Bitcoin owners were expecting a crash in the days leading up to the May 25 all-time high of $2,791.69.
I was one of them.
I first wrote about Bitcoin in June 2011, just days after one of the early Bitcoin crashes. The price of Bitcoin fell from $32 to $10 in four days, a 68% drop. The decline continued at a slower pace through November, bottoming out at $2 for a total decline of 94% in just five months.
We Bitcoin veterans have endured many more crashes since then…
Why Falling Bitcoin Prices Are Nothing to Fear
One Bitcoin price crash came in August 2012, when the Bitcoin price fell 51% in about three days, from $15.25 to $7.50. Less than a year later, in April 2013, Bitcoin crashed nearly 80% within hours because the Mt. Gox exchange (the dominant Bitcoin exchange at the time, with about 70% market share) went down.
And of course the biggest Bitcoin crash came with the protracted collapse of Mt. Gox in late 2013 and early 2014. In the fall of 2013, a surge in global interest pushed the Bitcoin price up more than a 1,000% in just four months.
But through mismanagement and theft of the Bitcoin it held, Mt. Gox became insolvent. When it finally went dark in February 2014, Mt. Gox admitted it had lost 850,000 bitcoins. The news sent Bitcoin tumbling 63% in less than three weeks.
Special Report: Cannabis Is the Gold Rush of the 21st Century – 30 Stocks to Invest in Now
So when the Bitcoin price chart started to go parabolic in the middle of May 2017, the "old-timers" knew how it would play out.
I was prepared. I set up a series of price alerts with the Coinbase app on my iPhone, set to inform me every time the Bitcoin price crossed another $100 threshold.
I knew the price of Bitcoin had reached a critical stage when I woke up the morning of May 25 to see two price alerts had triggered while I slept.
I sent out a warning on Twitter at 8:36 a.m. Eastern time May 25:
Less than four hours later, the Bitcoin price started dropping.
Some mainstream media put out ominous headlines:
CNBC: "Bitcoin correction sees nearly $4 billion wiped off value of the cryptocurrency as price falls 19%"
The Telegraph (UK): "The Bitcoin bubble is back – but investors should avoid it"
Barron's: "Bitcoin and Tech Stocks: A 21st Century Tulipmania?"
But Bitcoin owners with long memories were unfazed. In fact, many welcomed the decline in the Bitcoin price as a fresh buying opportunity.
"What crash are you talking about, didn't notice anything," wrote Naturecollision on Reddit.
"Every crash makes Bitcoin stronger. People see that it always rebounds and even the weak hands who sold become convinced of Bitcoin's inevitable domination," wrote another Redditor, DonaldCruz.
Related: How to Buy Bitcoins – Your Guide to Digital Profits
"Lol the second it 'crashes' I'm buying even more… and holding long term. So, please… be my guest, CRASHHHH!!!" said Redditor "GoldenCocaine."
In short, the recent Bitcoin price rise and fall is business as usual for the world's No. 1 cryptocurrency.
What matters now is what comes next. Here's what investors can expect…
Why the Bitcoin Price Will Keep Rising in 2017