With this past week's 0.8% gain, the price of gold in 2017 is now up 10.9% on the year. That means the metal is steadily on track to hit my end-of-year gold price target.
Over the past week, gold prices have managed to rise despite increased attractiveness toward more liquid investments like stocks. It finally closed above the important $1,265 level last seen on April 28. Not to mention this past week's gain came as the Dow Jones shot to an all-time high of 21,144.18 yesterday (Thursday, June 1).
In my view, the next catalyst for gold will be the expected June 14 interest rate hike from the Federal Reserve.
At this point, we're just 11 days away from the start of the June FOMC meeting. Keep in mind, the last two rate hikes on Dec. 14, 2016, and March 15, 2017, both led to gold rallies. The metal jumped 2.5% and 4.4% over the two weeks following each respective date.
Also consider that while the Dow Jones is up 7% so far this year, gold is up 10.9%. Those are stealthy gains that promise to deliver more as fundamentals and sentiment remain in gold's favor.
Gold stocks may also be setting up for a bounce, which could have big implications for the gold price in 2017. That's why I'll be showing you my gold price prediction for the end of this year.
First, let's look at gold's leap higher this past week…
Gold Prices on Track for a 0.8% Weekly Gain (May 26 – June 2)
After closing at $1,268 on Friday, May 26, the price of gold opened slightly lower Monday at $1,267. Since markets were mostly quiet due to the Memorial Day holiday, it hardly moved and closed the day at $1,267 for a small 0.1% loss.
On Tuesday, May 30, gold sold off in the morning, opening for trade at $1,262 on the back of a stronger U.S. dollar. But even as the dollar sold off through the day, gold continued to weaken in tandem. By the close, the gold price settled 0.3% lower at $1,263.
Urgent: An incredibly rare gold anomaly is shaping up in the markets as we speak — one that has occurred ONLY twice in the past 20 years. And it's about to happen again. Details here…
Luckily, the U.S. Dollar Index (DXY) sold off from near 97.50 down to 97 early on Wednesday. That pushed gold prices 0.5% higher to $1,269 by the end of the day.
Here's a look at the DXY over the last week…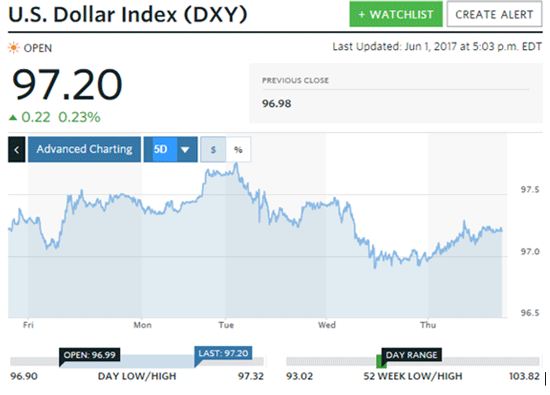 Thursday saw the metal open lower at $1,264 as the dollar steadily climbed. It recovered some of those losses and settled the session at $1,266 for a 0.2% drop from the previous session.
But the gold price today (Friday, June 2) is posting a huge gain, up 0.6% to $1,278. If it maintains this level throughout today's session, the metal will post a weekly gain of 0.8%.
With that strong weekly return, it's clear gold prices are seeing a big run higher from their recent rut. Since hitting a nearly eight-week low of $1,216 on May 9, prices have rebounded 5.1% to the current $1,278 level.
I think this is just the beginning, which is why I want to show you just how high I think the gold price will head by the end of this year…
My High Target for the Price of Gold in 2017
Join the conversation. Click here to jump to comments…
About the Author
Peter Krauth is the Resource Specialist for Money Map Press and has contributed some of the most popular and highly regarded investing articles on Money Morning. Peter is headquartered in resource-rich Canada, but he travels around the world to dig up the very best profit opportunity, whether it's in gold, silver, oil, coal, or even potash.