Dividend tech stocks are highly sought after because they're capable of providing double-digit returns on top of dividend payments.
Video
How Do Dividend Reinvestment Programs (DRIPs) Work?
However, finding strong tech stocks that pay a dividend is not easy…
Many tech companies don't pay dividends because they instead reinvest revenue into their products. Amazon.com Inc. (Nasdaq: AMZN), for example, doesn't pay dividends to shareholders.
But a high-growth tech stock with a big dividend is one of the best ways to generate wealth in the stock market. After all, the tech-heavy Nasdaq is up 16.9% this year, nearly doubling the S&P 500's 8.6% gain.
Finding tech stocks that are expected to climb more than 30% in the next year, on top of a 3% dividend payment, is a great way to boost your yearly returns.
That's why we're recommending one of the best dividend tech stocks to buy this year. This company may be a household name, but not everyone understands its profit potential. In fact, analysts project shares of this stock to return as much as 30.7% over the next 12 months.
Before we show you our stock pick, here's why dividend investing is essential to maintaining a strong portfolio…
The Biggest Reason You Should Buy Dividend Stocks in 2017
The biggest reason why dividend stocks are a must-have is so you can reinvest those dividends for even bigger profits. This is what's called a "DRIP," which stands for "dividend reinvestment program" or "dividend reinvestment plan."
A DRIP involves accumulating dividend payouts over time and using them to buy more shares of that stock. According to Money Morning Executive Editor Bill Patalon, the best stocks for DRIPs are companies that have paid reliable dividends for years or even decades.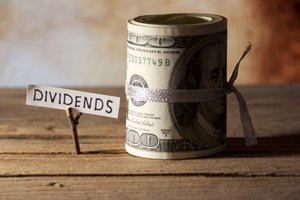 "The best DRIP programs are often offered by companies with strong dividend payout histories – the ones that cater to long-term investors who tend to stick with stocks," Patalon said. "Most DRIPs let investors reinvest all dividends into more shares of a company, at little or no cost."
A good example of a highly profitable DRIP comes from Johnson & Johnson (NYSE: JNJ), which has been paying dividends for 45 years. Its first annual dividend in 1972 was only $0.009 per share. However, it grew to $0.24 per share by 1995.
If you invested $10,000 in JNJ stock on Jan. 1, 1995, and chose not to buy more stock, your initial $10,000 investment would be worth $92,456 today, including price growth and dividend payments.
While $92,456 is still a big return, that same $10,000 investment would be worth $121,212 today if you used those dividends to buy more JNJ stock. That 31% improvement shows the power of DRIPs as an investing strategy.
Urgent: An $80 billion cover-up? Feds use obscure loophole to threaten retirees… Read more…
Of course, you shouldn't put money in just any stock with a generous dividend. It's extremely important to find a company that boasts not just a big payout but also massive growth potential.
And our dividend tech stock pick today has had no shortage of spectacular growth. Shares of this firm have exploded 30,116% over its nearly 40-year tenure as a public company. That's more than 14 times the growth of the Dow Jones Industrial Average, which is up 2,114% over the same period.
Analysts expect the firm to gain another 30.7% by June 2018. Still, with its incredible 34% gain already in 2017, those analysts could likely increase their projections for it multiple times this year.
Here's our top dividend tech stock to own right now…
One of the Best Dividend Tech Stocks Could Also Gain 30.7% by Next Year