Calling the price of silver a roller coaster would be an understatement.
All you need is to look at a 60-day or 6-month price chart, and you'll see exactly what I mean.
In fact, even the past week can make seasoned silver investors nauseous. It's been a bumpy ride, and it's not over. On June 7, the price of silver was trading as high as $17.60. By last Tuesday, it had fallen all the way to $16.80.
The price of silver today is down another 0.63% to $16.58.
Although silver has lost ground to gold in the last few days, a glance at the price chart shows we may already be at support, bolstering the case for a return to upside price action from here.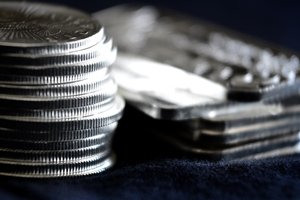 A quick comparison of gold and silver in the last five trading days shows their price behavior has been nearly identical, with silver of course amplifying the movements.
Let's examine silver's volatility over the past trading week, then look to what may lie ahead for the precious metal…
How the Price of Silver Is Trending Now
Silver began the week on a bearish note, following through on weakness from the previous trading sessions.
The metal opened on Monday at $17.09, and essentially headed only south for the remainder of the day. The U.S. Dollar Index (DXY) provided the headwind, rising from just above 97 to about 97.25 in short order. By the late afternoon close, silver had lost $0.16 per ounce, trading hands at $16.93.
On Tuesday, as the FOMC began its two-day meeting, silver weakened even further, opening at $16.82.  By 10:00 a.m. it had fallen more, priced at $16.70. That was to be the low for the day, as silver bounced back on minor DXY weakness. By the close, the white metal was at $16.80, just $0.02 below its open.
Urgent: An incredibly rare gold anomaly is shaping up in the markets as we speak – one that has occurred ONLY twice in the past 20 years. And it's about to happen again. Details here…
Wednesday, as the U.S. Federal Reserve was preparing to make its rate hike announcement, silver action got a lot more interesting. It had mustered a bit more strength in overnight and early morning trading, opening at $16.91. Then it exploded higher, like gold, on disappointing retail sales, suggesting Q2 GDP may fall short. But the silver party was soon over, as Fed Chair Janet Yellen's hawkish comments spooked buyers into thinking the Fed would remain on a steady rate-hiking path. So silver then immediately tanked from $17.18 at 2:00 p.m. to $16.84 by 4:00 p.m., to close slightly better at $16.86.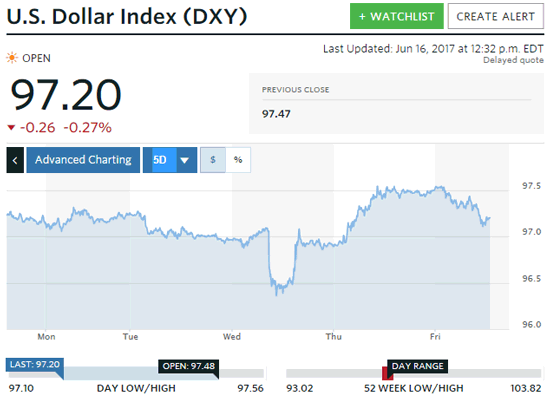 On Thursday, the dollar got its second wind, powering from 97 to 97.50 within hours. That was enough to squash silver, and it opened at $16.74. As the DXY stabilized, so did silver, which closed barely lower at $16.73.
Friday morning's profit taking in the dollar supported silver in early morning trading, but it only managed to open at $16.74. From there, even with a retreating DXY, silver weakened to $16.68 by midafternoon.
Now that we know how the price of silver has been trending this past week, here's where I see it going from here…
Here's What's Next for the Price of Silver in 2017
Join the conversation. Click here to jump to comments…
About the Author
Peter Krauth is the Resource Specialist for Money Map Press and has contributed some of the most popular and highly regarded investing articles on Money Morning. Peter is headquartered in resource-rich Canada, but he travels around the world to dig up the very best profit opportunity, whether it's in gold, silver, oil, coal, or even potash.