Between the closing price of $3,018 on June 11 and $2,576.17 on June 18, the price of Bitcoin has dropped 14% in a week.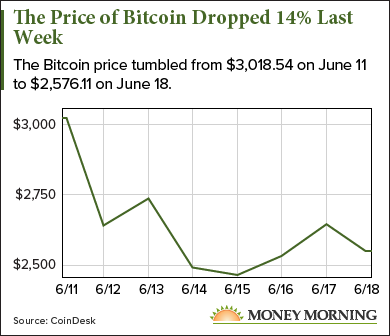 However, the Bitcoin price drop could be a perfect opportunity to buy more of the cryptocurrency.
As longtime Bitcoin owners know, the price of Bitcoin is incredibly volatile. In fact, the cryptocurrency is still up a whopping 176.38% in 2017, despite this week's pullback.
Here's why the Bitcoin price dropped double digits in the past week and where it could be heading from here...
Why the Price of Bitcoin Dropped 14%
When Bitcoin prices set a new high of $2,700 on May 25, the price fell as low as $2,352 on the same day. That was a 12.88% swing in just hours. Analysts at CoinDesk believe this was "profit taking," and that could have happened this past week as well.
When the currency reaches a new all-time high, some investors cash in some or all their profits. More selling means there is less demand, which can drive down the price of Bitcoin.
BREAKING: New Legislation Could Turn Tiny Pot Stocks into Millions. Click Here...
Goldman Sachs Group Inc. (NYSE: GS) also had a bearish impact on Bitcoin last week when the bank announced on June 12 it would start covering cryptocurrencies. The investment bank suggested prices would retrace to between $1,915 and $2,300.
It seemed to have an impact, with Bitcoin closing at $2,682.59 on June 12. That was down 11.12% from $3,018.54 on June 11.
However, what Money Morning readers need to remember is Bitcoin prices are still at record highs and could keep climbing.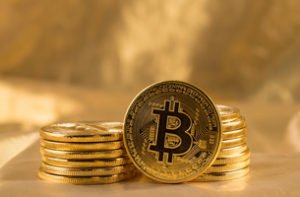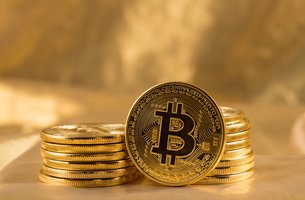 On May 25, Bitcoin traded at a then all-time high of $2,791.69. That was soon eclipsed on June 9, when it traded for $2,967.48. The price kept climbing, and there was a new all-time high of $3,025.47 on June 11.
And these increases are modest compared to how high Bitcoin prices could climb...
Bitcoin Price Drops Have Been Tremendously Profitable