Video
New Nevada Marijuana Laws Will Turn State into a Cannabis Destination
On Nov. 8, 2016, 54.47% of Nevada residents voted "Yes" for the Nevada Marijuana Legalization Initiative, which allows legalized recreational cannabis use.
After the vote, the state planned to start recreational sales on July 1, 2017. Under the new law, recreational marijuana sales in Nevada will allow adults 21 years and older to purchase, possess, and consume one ounce of marijuana.
However, recreational sales may not be allowed as quickly as cannabis enthusiasts had hoped…
On June 20, First Judicial District Judge James Wilson granted a preliminary injunction requested by liquor distributors. The injunction prevents the Nevada Department of Taxation from issuing marijuana distribution licenses to anyone but alcohol distributors.
Even medical marijuana dispensaries in Nevada would be unable to sell recreational cannabis under the injunction.
This has made a July 1 start for recreational sales now seem unlikely.
Right now, this is a small setback for the Nevada marijuana industry. Recreational sales may not start as early as some have hoped, but the state still voted to fully legalize cannabis.
Even if it isn't on July 1, recreational sales will start when the Nevada Department of Taxation determines if exclusively licensing liquor wholesales as temporary marijuana distributors will result in an insufficient number of licensees.
And when they make that determination, the money is going to start pouring into Nevada…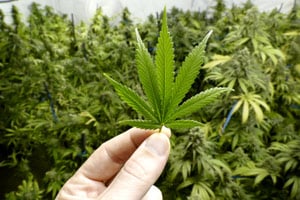 By 2020, data solutions provided New Frontier Data project cannabis sales in Nevada will reach $630 million.
And we have three marijuana stocks we are watching right now to profit from that potentially massive $630 million market. These three companies all have a strong foothold in the Nevada marijuana market and operate in three unique sectors of the cannabis industry.
You can find out everything you need to know about these three pot stocks right here.
The Best Pot Stocks: After months of research, we've found the most lucrative and fastest-growing legal pot stocks in America. And for a limited time, you can get all the details for free. Learn more…
Follow Money Morning on Facebook, Twitter, and LinkedIn.