Our latest list of stocks to watch now includes some heavy hitters today:
First, we look at what a hefty fine means for an Internet behemoth.
Then, the No. 1 social media site inks an eye-catching live-broadcasting deal.
And finally, the Amazon of China has been on a tear.

Stocks to Watch No. 1: A Steep Fine Stings This Silicon Valley Goliath, but Not Much More
Google, owned by Alphabet Inc. (Nasdaq: GOOGL), was hit with a 2.4 billion-euro ($2.75 billion USD) fine on Tuesday for violating antitrust laws. It's the largest such fine the EU has ever levied on a single firm.
The EU found that Google had given its own shopping service unfair advantages, especially for users of Android phones, thus denying consumers the benefit of competition and innovation. The fine comes at the end of a seven-year investigation and will come with additional penalties if Google doesn't conform to established standards within 90 days. Google has no choice but to comply with the order even as it considers appeal.
As of Thursday, GOOGL shares had fallen 4% since Monday's close, now sitting at $934.12. The stock was trading above $1,000 in early June.
It's not clear, however, that the fine will have much effect in the long term. The company is sitting on $90 billion in cash and posted $5.49 billion in profits last quarter, so this is a relatively small dent in the bottom line.
It's also not clear how much stricter compliance with EU standards will affect Google's operations, but the company has shown the ability to adapt to changing circumstances over and over again in its 18-year existence.
In January 2016, Money Morning Chief Investment Strategist Keith Fitz-Gerald said Alphabet was "very much a company of the future." At the time, shares were a hefty $733.62. And the stock has continued to rise to new heights.
Stocks to Watch No. 2: Europe's Most Popular Soccer Tournament Comes to American Social Media
If content is king, Facebook Inc. (Nasdaq: FB) is about to get a leg up.
On Tuesday, the social media giant announced a partnership with FOX Sports to live-stream UEFA Champions League soccer games for American users beginning in September. The UEFA is the most popular annual soccer tournament in Europe.
Facebook stock was up on Wednesday, but those gains were quickly erased the following day. Nevertheless, shares are up 31.5% for the year, and the move shows the company's continued commitment to expand into new areas.
Must See: Get $45,000 Worth of Our Best Stock Research for Just Pennies a Day. Read more...
Fitz-Gerald told Money Morning readers that he was a Facebook convert in January 2016.
"I avoided Facebook Inc. for a long time because I didn't have the sense that Mark Zuckerberg knew what he wanted it to be when it 'grew up.' But that's changed in recent months."
"Through a series of savvy acquisitions," he continued, "Facebook is laying claim to a virtual future that most people don't see coming, let alone understand. What's more, with $15.8 billion in cash reported during its last quarter, the company has the resources to make it happen."
Facebook is up 56% since Keith made the pick.
Stocks to Watch No. 3: The Amazon of China Grows Bigger by the Day
Alibaba Group Holding Ltd. (NYSE: BABA) is having quite a year. The Chinese online retailer is up 77.7% in the last 12 months and 14.1% since a month ago. And the company shows no sign of slowing down.
On Wednesday, Alibaba announced it would invest another $1 billion in Lazada Group, the leading e-commerce platform in Southeast Asia. That brings Lazada's implied valuation to $3.15 billion, of which Alibaba would own 83%.
Like Amazon, its American counterpart, Alibaba has been making a push into the brick-and-mortar retail space. It began in 2015 with a $4.6 billion investment in electronics retailer Suning Commerce Group. This past February, Alibaba announced a strategic partnership with the Bailan Group Co. Ltd., China's largest retailer by store numbers. Goldman Sachs has noted that Alibaba plans to bring its high-tech inventory management to its brick-and-mortar partnerships, streamlining operations and boosting earnings by as much as 28%.
Fitz-Gerald has been excited about Alibaba since its IPO back in September 2014. Even after its record-breaking offering, the stock has gained 49.7%.
Plenty of others think Alibaba still has room to grow, too. In June, Baird analyst Colin Sebastian raised his price target for Alibaba to $170. It currently trades at $141.36.
For those following along, here are the Money Morning recommendations from our experts that have gained the most - take a look: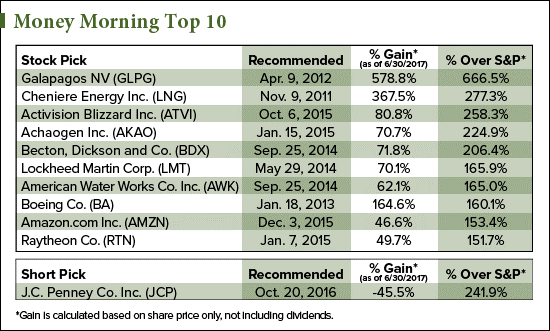 Editor's Note: "Must-have" companies backed by Unstoppable Trends are a cornerstone of Keith's wealth-building strategy. But there's another type of investment he wants Money Morning Members to know about. It's one of his favorites, a kind of "desert island fund" he'd buy if he had to park his money in one place, "retire" from civilization for 20 years, and come back to a pile of money. Click here to learn more...
Follow Money Morning on Facebook, Twitter, and LinkedIn.
Join the conversation. Click here to jump to comments…
About the Author
Stephen Mack has been writing about economics and finance since 2011. He contributed material for the best-selling books Aftershock and The Aftershock Investor. He lives in Baltimore, Maryland.