Shuanghui Group, the largest pork producer in the world and the largest meat producer in China, dominated headlines in 2013 when it purchased U.S. pork producer Smithfield Foods Inc. for almost $4.7 billion.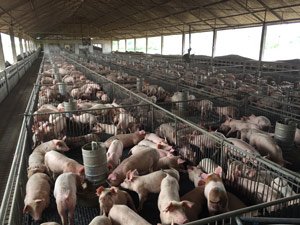 Back then, the focus was on the livestock.
Forbes called the purchase "a game changer for pork trade."
"No other combination [of companies] has such a great opportunity," Zhijun Yang, managing director of Shuanghui, said to The Washington Post that same year.
But here's what the mainstream media missed: Shuanghui didn't just acquire the livestock. The Chinese conglomerate also snatched up more than 146,000 acres of farmland across the United States, worth a staggering $500 million, according to U.S. Department of Agriculture Data.
Here's why they did it - and what it all means for American farmers. (Hint: It's not good.)
China Is Desperate for Farmland and Food
China is in dire need of both food and farms.
Moderate to severe soil degradation affects more than 40% of the country, exacerbated by overuse of fertilizer, intensive grazing, and the reliance on biomass for rural energy, according to a 2016 report by Time.
And while the country may look huge on a map, only 11% of Chinese land can be farmed, according to a 2016 report from Mercola. When you combine that with China's huge population of over 1.3 billion people, you've got a recipe for a food disaster.
"There could be massive social unrest if they screw up the agriculture industry," said Erlend Ek, an agriculture expert at the China Policy research firm, to Time.
"Chinese agriculture is effectively a cottage industry," added Sun Chang, chairman of Black Soil group, which aims to modernize Chinese agriculture by consolidating these plots into larger farms. "China is so far behind the U.S., Australia, or Europe because of unorganized, subscale farms with no scientific management."
Now, with few options left, China is investing in the best agricultural technology and best farmland - regardless of where it lies - to feed its citizens.
And the United States, with six times more arable land per capita, is the perfect contract farmer.
China's Increasing Landholdings
Since 2011, Chinese businesses have made dozens of transactions for U.S. farmland, according to USDA data. Indeed, as of 2015, China owned $1.4 billion worth of U.S. farmland... and now, it's likely to buy a lot more.
China is expected to increase its holdings of U.S. agricultural land in coming months as the China National Chemical Corporation, or ChemChina, just completed a $43 billion takeover of Swiss-owned seed producer Syngenta on June 28.
Citizens and lawmakers alike are concerned.
"The more control foreign interests have in our food system, the less control we have, obviously," said Tim Gibbons, a director for the Missouri Rural Crisis Center, an advocacy organization based in Columbia, to Illinois Public Media on June 25. "I think it's a national security concern."
Buy Alert: This company is in the sweet spot of an industry projected to be worth $11 trillion by 2026, and its stock is gearing up for a big jump. Click here to get this pick for free.
"When foreign entities buy farmland, my assumption is that we're never going to get that farmland back," added Gibbons. "They're going to keep it forever."
The sudden rise in Chinese foreign investment even prompted Sen. Chuck Grassley (R-IA) to speak out on the matter.
"As we think about the future and the growing global population, it's important to consider who will control the food supply," Grassley said in a statement. "Today, there may not be a food shortage in the world, only distribution problems that are more the result of politics and not logistics, but in the decades to come, it may be a different story."
What This Means for America's Farmers
Instead of buying food from farmers who work their own land, Chinese companies want to own and control these American farms themselves - as well as the livestock barns and slaughterhouses - just like the way the chicken industry operates.
You see, chicken "growers" are paid to raise the birds on their private property. They also receive pay for the expensive poultry houses (some costing more than $1 million), labor, and maintenance. But it's the major poultry companies who own the chickens - as well as the hatcheries, slaughterhouses, and feed.
"It's at the expense of the farmer, because the farmer's not the one making money. The company is making money," said Benny Bunting, a former chicken farmer, to NPR in 2014.
Many farmers are feeling stuck, cheated, and angry with the foreign contract investments.
"We've got ties to the land, and they exploit that, because we're going to do whatever it takes not to lose our farm," said Craig Watts, a North Carolina chicken farmer, in the same report.
"We've got to bite our tongue and do what they say, or face the consequences of being bankrupt," said another frustrated farmer.
With China picking up more and more land, farmers are more concerned than ever the pork industry will be swallowed up in the same way.
Invest in This American Classic Instead
Farmers are being squeezed out of the system by foreign investors like China. But there is still a way to support - and profit from - another American staple...
We're talking about John Deere, or Deere & Co. (NYSE: DE).
"It's not a bad time to produce the equipment used to 'Rebuild America.' The momentum is very strong here," said Money Morning Quantitative Specialist Chris Johnson - an expert in identifying overlooked (and undervalued) stocks.
"Looking at the charts, it's hard to figure out why the market hasn't jumped on the Deere & Co. bandwagon yet," said Chris.
Indeed, DE stock is up 13% over the past three months - from $108 in April to over $125 today (July 6).
And over the past year, DE stock has grown a hearty 21%.
"Everything is coming up 'green' for buyers here," said Chris.
"This stock is technically strong, analysts and short sellers are all over it, and there is an iron-strong fundamental backdrop for Deere and other industrials right now."
Follow Money Morning on Twitter @moneymorning and Facebook.